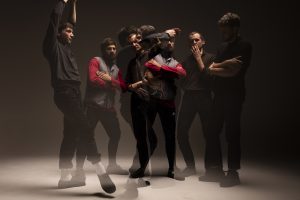 HOUSEWIVES are a London based experimental four piece creating music on the boundary between noise and sound. Their austere, rhythmically charged music has a distinctively cold, minimalist edge; abrasive guitars blend with droning bass lines and propulsive, relentless drums. Their live approach is anti-performance, using a stark and minimal aesthetic coupled with intense and powerful compositions. Often using home made instruments, they explore unique sonic textures creating a challenging and progressive sound.
They've gained major plaudits from the independent music press and the British scene as a whole. After a sold out tape on Faux Discx they released their debut album 'Work' with Hands In The Dark, Blank Editions and Negative Days. A split release with touring partners Massicot is to be followed by a second live album 'FF061116' released with Rocket Recordings in August 2017.
Listen to Housewives 'Work':

'Balm (Icaria Sunstroke)' video by Tom Crawford, taken from 'Work'
'Fig. 1' video by Joseph Rafferty, taken from 'Work'
'New Dance' video by Matthew Silcox, taken from New Dance 7″ release on Blank Editions
Housewives performing 'Docile Body' Live at The Lexington, London
Listen to Kiblind mixtape
Selected Press:
'Sonic Masala' Best Albums of 2015
'The Drone' Top 20 of 2015
'Work' in 'The Vinyl Factory' 10 Best releases of the week.
'A searing, muscular record full of brittle guitar tones, hypnotic bass lines and polyrhytmic, fully stacked percussion….Seething with brutralist rage and posturing of Swans and the genre-shattering noise and rhythmic attention of This Heat Housewives possess an anger and vitriol not heard out of the UK underground scene in quite some time' Tome To The Weather Machine
'On Work, different variations of guitar atonalism are flung together with the industrial clatter and rumble of agricultural machinery and equipment, the monotonous grind of labour a constant cold breath down the neck of these disquieting exercises in art rock minimalism' The Quietus
'In sonorous inebriations, Housewives tatters mental matter into an oblivion, from minimalist punches and strokes, and a full on assault of sonic permutation. Tiny Mix Tapes
'angry and confrontational, the group build hypnotically heavy tracks using a combination of relentless beats, out of tune guitars and feedback loops … they're like a more experimental version of girl band, or an angrier, lo-fi wire – all kinds of amazing.' Resident Records
'Their rough-hewn rhythmically charged music has a distinct cold, minimalist sheen, but dealt with the heft of a sledgehammer. Dueling, abrasive guitars hit the ears like glass shards atop growling bass grooves and propulsive, tightly wound drums' Manchester Wire
'With makeshift instruments and a lo-fi recording style that sounds like a microphone taped to the roof of a barn, the LP captures a raw and live spirit of punk days gone. It's as unorthodox in sounds and structures as it is unique, but the south London four piece make it work with a wall of guitars and a bone-shattering kit leading the way' Awkward Movements
'Housewives often abandon that very basic algorithm in order to turn a piece from a full-scale conversation into a minimalist dialogue between just a few instruments, musical passages or ideas. That sense of over-exploitation and getting deeper in smaller sound structures in fantastic, showing the band's love for detail' – 9/10 Heathen Harvest
"Du saxo sur des lignes guitares qui ferraillent, un chant écorch sur une batterie minimaliste et séche, on se croirait revenu à l'époque bénie d'un hardcore rugueux, pré-MTV et dépouillé de toute posture inutile.' Hartzine
'Housewives ne se laisse pas déborder. C'est carré, voir rigide, use de la répétition pour tester vos nerfs mais à l'intérieur, avec ses rythmiques atypiques et ses guitares bizarrement (dé)accordées, la colère gronde chez Housewives, la tension est au bord des lèvres, la combustion est sous contrôle et de cette chaleur bleue naît un étrange parfum d'hypnose, des écorchures arides pour se gratter jusqu'au sang.' Perte& Fracas
'At se dem live var som at se et forbipassende Intercity Lyntog på de mest øde steder af den jyske landshalvdel. Det skal forbi, og det skal ske fandens hurtigt. Ingen stop mellem numrene for at give tid til en velfortjent vejrtrækning, samle os måbende tilskuere op eller lade os komme os over den håndflade, der lige har plantet sig på vores kinder.' Lappland Blog
'A sort of monochromatic surliness slowly warming up to a barely controlled anger, hypnotic and building from the simplest elements." Charles Hayward
'Their mixture of blurry guitar-led discordance, shattered beats tightly wound and vocal ramblings akin to Mark E. Smith asking for directions to his local Morrisons grabs attention instantaneously' Subba Cultcha
'And while I might say there is a proclivity for Wire-esque militaristic precision, the four-piece are more in line with My Disco in their motorik rhythms and barked vocals, while embracing chaotic auxiliary percussion and atonal drones into what is already a blood-pulsing caterwaul.' Sonic Masala
'Housewives' off-kilter brand of spiky riffs and shouty vocals is faintly reminiscent of Pixies at their most manic or Gang Of Four during their abrasive heyday. The energy and sheer eccentricity that they bring that they bring on their debut seven-inch 'New Dance' is in a league of its own though.' NME