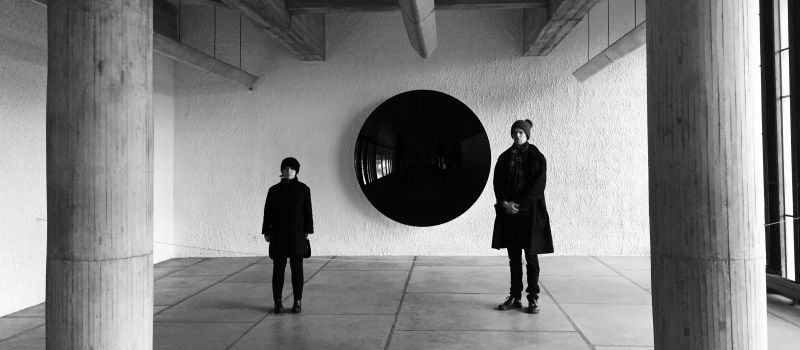 TOMAGA channel various forms of multi-instrumentalism into music that moves by turns through industrial, jazz, psychedelia and minimalism, on it's way to somewhere wholly other. Devoted to musical exploration, this London based duo obsessively deconstruct familiar tropes, looking for the tension that lies between improvisation and form.
Tomaga formed in 2014 and have already released an impressive discography. Their most recent release is 'Memory In Vivo Exposure' which was included in several best of 2017 lists including Uncut Magazine and The Attic.
Listen to Memory In Vivo Exposure here:
Tomaga were described by BBC Radio3 as 'the best band in the UK' after performing a session as part of The Great Escape Festival in Brighton in May 2017.
In April 2017  Tomaga comprised part of the 8 person ensemble who performed the CAN Project (alongside original Can singer Malcolm Mooney, Sonic Youth's Thurston Moore and Steve Shelley, My Bloody Valentine's Deb Goodge and others) at the Barbican (a show that sold out 2000 tickets in 8 hours). They were also named by avant-garde luminary Thurston Moore as one of the 5 bands you should know about right now in a recent article for NME.
Read interviews, reviews and previews here: Wire Magazine, The Quietus, Liberation, Vinyl Factory, Hartzine, The Drone, Noisey.
Having been invited to tour with such musical luminaries as Wire, Deerhoof, Thurston Moore, FAUST, Lee Ranaldo and Silver Apples since their formation, TOMAGA are truly one of the finest live acts around.
In addition to this they have done collaborations with Turner Contemporary Gallery in Margate (staging a performance using the artworks of Pedro Reyes), Musee D'art Contemporain De Lyon (contributing a sound object to the Yoko Ono exhibition 'Lumiere De L'aube'), plus imminent collaborations with legendary French instrument maker Pierre Bastien for Supersonic Festival in Birmingham.
Listen to their latest release 'Greetings From The Bitter End' (May 2017)
Listen to Tomaga's 'The Shape Of The Dance' (September 2016)
Listen to tracks from the debut LP 'Futura Grotesk':
Watch 'Alphabet Of Night', video by Antonio Curcetti:
Watch 'Futura Grotesk', video by Ross Adams:
Watch 'Days Like They Were Before', video by Julian Hand
Selected Press:
TOMAGA 'Futura Grotesk' was included in a number of 'Best Albums of 2014' charts, including Mowno, Phonica, Boomkat, Hartzine, as well as best of month at Rocket Recordings, and Japan's Beethobear.
Review of Tomaga opening for WIRE at The Kazimier in Liverpool Get In To This.
Listen to a mixtape made by TOMAGA at w-h-y.
Read an interview at the excellent Digital in Berlin.
Interview at musicculturevision.
Raw, visceral psych-dub killers by a wicked new duo… –Boomkat
Une musique libre, unique, mais toujours fascinante… –Noisey
Seven whole tracks of dystopic, psychedelic visions... –Tiny Mix Tapes
D'apparence conceptuelle, leur musique, à l'emprunte du temps et de l'écoute noctambule, s'intime pourtant invariablement tel le chemin le plus court vers l'engourdissement des sens et la divagation de l'esprit. –Hartzine
Superb new album. –Fourier Transform
Futura Grotesk est, pesons les mots, une des grosses claques de cette fin de saison. Insaisissable, percutant, obsédant sont autant d'adjectifs qui résument à peine les sensations éprouvées durant son exploration. Il fait aussi partie de ceux qui nécessitent de la patience, et ne peuvent s'apprivoiser par la sélection hasardeuse d'une piste. –Mowno
Their improvised music contains elements of jazz, industrial and minimalism, and for their debut album Futura Grotesk, they have ordered various fragments of their own live and studio recordings into a sonic assemblage. –The Wire
Futura Grotesk By Tomaga is freaky and focused madness –Revolt Of The Apes
Mené de mains de sorciers par Thomas Corvidae et Valentina Magaletti (…), Tomaga est une sorte de récréation qui repousse les limites de l'amusement. Sur Futura Grotesk, c'est autant la pop d'après demain qu'on entend (…) qu'un écho à la musique expérimentale des années 50 et 60, faite de collages qui oscillent entre l'abstract hip hop et le psyché gazeux, la musique futuriste du début du 20ième siècle chère à Luigi Russolo et une certaine conception de la mélodie tordue, cachée comme un otage au Pakistan sous sa couverture de survie. –Gonzai
It's a kind of implosive sound which does not entirely leave you the chance to get bored nor over-focused –Heathen Harvest Periodical
Une expérience envoûtante… –New Noise
Dans un monde idéal, Trish Keenan ne nous aurait pas quitté brutalement,…et elle et son compagnon James Cargill seraient en train de faire les 400 coups avec Tom R et Valentina Magaletti, les deux musiciens très talenteux qui jouent dans Tomaga. –The Drone
En provoquant le danger, en se posant au bord du précipice, les deux musiciens maintiennent leur taux d'adrénaline – et le nôtre – bien au-dessus de la moyenne. Et cela, sans jamais nous embourber dans le verbiage musical pompeux ou l'inutile saccage bruitiste. (…) Dans cet album, qui ne contient pourtant que sept titres brefs, les paysages rencontrés sont innombrables et le péril, toujours au coin de la prochaine mesure… –Kiblind
Il duo disegna paesaggi strumentali di psichedelia minimale e astrazioni jazz, attenti a non calcare troppo sulle indiscutibiliti doti di musici ma a mantenere anche nei passgi più surreali un certo senso del divertimento e della sorpresa.–Blow Up
A track from the forthcoming album was released on The Wire Magazine Tapper CD number 36' in October 2014.
You can read previews of the forthcoming LP at "Noise Magazine', Tiny Mixtapes, The Drone, Gonzai, Piccadilly Records.
Read a review of TOMAGA opening for Deerhoof in New York, May 2014.
Nic Bullen from FACT Magazine considered TOMAGA at Supernormal Festival one of the best live shows of 2013. FACT also wrote about the debut TOMAGA cassette release, 'Sleepy Jazz For Tired Cats'. Read Valentina's interview for music, culture, vision blog.
Live booking: tom@julietippex.com