TIPPEX TOPS / PLAYLISTS 2018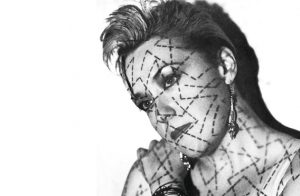 Image : Tara Cross
CONSTANCE TIPPEX (CONSTANCE LEGEAY)

A podcast : Ecrire l'amour, LSD série documentaire, France Culture
Movies
Le Bois dont les rêves sont fait (Claire Simon, 2015)
Asako I & II (Ryusuke Hamaguchi)
Sans toit ni loi (Agnès Varda, 1985)
Ca va, ça vient (Pierre Barouh, 1972)
Books
Traverser les murs (Marina Abramović, 2017)
Les 1001 Nuits Tome 1 (Anonyme)
De Fringues, de musique et de mecs (Viv Albertine, 2014)
Rendez-vous à Positano (Goliarda Sapienza, 1984)
Les Vaisseaux du coeur (Benoîte Groult, 1988)
Ma Chatte, lettre à Booba (Marie Debray)
Faire l'Amour (Jean-Philippe Toussaint, 2002)
La Guerre n'a pas un visage de femme (Svetlana Aleksievitch, 2004)
Youtube gems
Asphixiation – Aural Risk
Earthbeat – The Slits
Elis Regina & Tom Jobim – Aguas de Março
Playlist
Ce n'est que de l'eau – Pierre Barouh (1971)
C'est normal – Areski et Brigitte Fontaine (1973)
Microphone Connection – Tara Cross & Unovidual
All Of A Sudden (It's a New World) – Laraaji (1971)
By This River – Brian Eno (1977)
Eighties Rampwalk – Operating Theatre (1982)
Teoría De Contacto – Logotipo (1981)
Cannibal Babies – Geneva Jacuzzi (2016)
Résigné – Hyperculte (2015)
Autotune – Damso (2016)
Je pleure tout le temps – Véronique Vincent & Aksak Maboul (82-83)
Swish Swash – Crack Cloud (2017)
When We Fall – Beak> (2015)
Aural Risk – Asphixiation (1981)
Pride – Kendrick Lamar (2017)
Fata Fou – Marc Mélià (2017)
La Solitude – $afia Bahmed-Schwartz (circa 2014)
I Get Along Without You Very Well – Chet Baker (1954)
Work It – Marie Davidson (2018)
BB – Booba (2018)
La Balade du Siècle – Musique Chienne (2018)
Lente Dépression – Arne Vinzon (2011)
Juste Fumer une cigarette – Katerine (2011)
Poto – Myth Syzer (Bisous, 2018)
90's – PNL (2018)
Animal Space / Spacier – The Slits (1981)
Scarface – Booba (2011)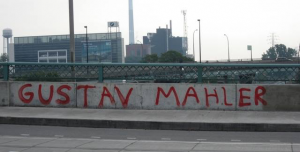 ETIENNE TIPPEX

10 tracks
FACS – House Breathing
Mike Cooper – Running naked
Brian Case – R you?
Hikaru Hayashi – L'ile nue
Love Tempo (Fac 79 Remix)
Eden Ahbez – Full Moon
Peuple Shipobo – Ea Huaronyamai
Fenster – HBW
JJ Johnson – Make it right
Claude Debussy – Des pas sur la neige
1 live
Goat (JP) at HKW Berlin for "100 Jahre Beat".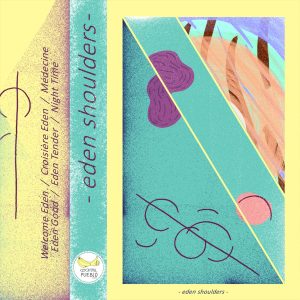 MARIE TIPPEX (MARIE-PIERRE BONNIOL)
Golden Teacher – G.D.D.B. (Green Door Disco Band) (Goaty Tapes / House Rules, 2018)
Jimothy Lacoste – Getting busy (2017)
Waltraud Blischke – New wood music (mix for Baumusik, 2017)
Eden Shoulders – Croisière Eden (2017)
Matias Aguayo – Run Away From The Sun (Kompakt, 2015)
Neuzeitliche Bodenbeläge – Ich verliebe mich nie (Themes For Great Cities, 2018)
The Chap – I Am the Emotion (demo, 2018)
Lives : Facs, Vulfpeck, Khruangbin
YouTube channel : No Obi No Inserts
Arctic Driling – Interlude III (from Tree) (2017)
Samuli Tanner – Music for 1- Yr old Samuli Tanner (Sun Ark, 2017)
Peter Michael Hamel – Fire Of Holy Eyes (Vertigo / Wah Wah records, 1972)
J.G.G. – UAU2 (2016)
Charles Mingus – Hora Decubitus (1963)
Ornette Coleman – Times Square (live on TV)
Maggie Nelson – Les Argonautes (book Seuil / Éditions du sous-sol, 2018)
Doing movies, releasing a book, "Une bibliothèque" (Derrière la salle de bains) and a mix for Sounds Unsaid / Dublab.de too.
The 80th birthday of my dearest Helga de la Motte-Haber
Eventually reading Austerlitz of Sebald and being blown away.
Jean-François Lyotard / Érik Bullot / RR RER RERE
In memoriam Jacques Monory,
and with thanks to Marlène Archer, Keith Duncan, Constance Legeay, Thierry Legrand, Dalia Mansier, Marion Orel and Marion Pilliard for the work together and the help this year.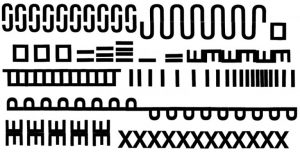 MARION TIPPEX (MARION OREL)

Live
Chain and the gang @ l'Aéronef, Lille
YXZ @ Binic Folk blues festival, Binic
The Kill Devil Hills / The Scientists @ Petit Bain, Paris
Chloé @ Mutek, Montréal
Terry Riley @ La Maroquinerie, Paris
One music video – Marc Melià – Music for Prophet
One theatre performance – The Veldt, Virginie Yassef, Les Amandier Nanterres
One exhibition – Michael Heizer, Gagosian Le Bourget
And doing some artwork for Julie Tippex.
Playlist of the year – Oh yeah baby! VI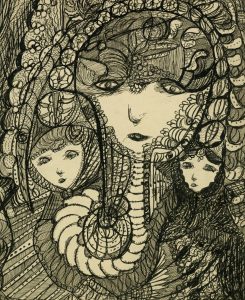 Drawing : Madge Gill
MARLENE TIPPEX

Albums
Cindy Lee – Act of tenderness (reissue)
Maria Violenza – Scirocco
The Space Lady – On the street of dreams
Puce Mary – The Drought
Senyawa – Sujud
Rose Mercie – ST
Sarah Davachi – Let night come on bells end the day
Petra Pied de Biche – Rage de raison
VA – To catch a ghost : field recordings from Madagascar
Live
Les Croisières Dolori @ Relax
Kurwz @ Schokoladen
Trrma @ Loophole
Erik Ruin, Elena Kakaliagou & Cécilia Caroline Tallone @ Fehre 6
Soldat @ Data
Avenir @ Anse du Bain des Dames
Ze Revengers @ La Plaine
Tiny Tramp @ Festival Brouaa
Transport Orchestra @ Villa Kuriosum
Hyperculte @ Arkaoda
La Chasse @ La Tâche
Kaito Winsé et le Jour du Seigneur @ l'Embobineuse
Evan Crankshaw @ Vidéodrome2
Guilhem All @ l'Intermédiaire
Jealousy Party @ Schrippe Hawai
Onceim @ Studio Boerne
Books
Emma Santos – J'ai tué Emma S.
Gérard Noiriel – Une histoire populaire de la France
Documentary
Fatima Sissani – Tes cheveux démêlés cachent une guerre de sept ans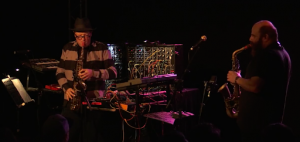 PASCAL TIPPEX (PASCAL RÉGIS)

Albums
Slowly Paradise – Eric Chenaux
8 Regards Obliques – Etienne Jaumet
Session Unik – Chloé & Vassilena Serafimova
A Tribute To La Monte Young – Infinite Music
Universalists – Yonatan Gat
Apples and Oranges – Andy Partridge
Practicing Loss – Feast of the Epiphany
Simple Answers – Charlie Looker
Bimini Twist – Alison Statton & Spike
Live
Zombie Zombie, Palais de la Porte Dorée, Paris, 2nd February
Chloé & Vassilena Serafimova, Rhys Chatham, Krikor, Centre Pompidou, Paris, 28th April
Etienne Jaumet with Thomas de Pourquery and Laurence Pike, New Morning, Paris, 27th November
Les Concerts dans le Jardin de Simone : Stuart Moxham, A Boy Called Vidal, Jérôme Lorichon & Quentin Rollet, Rhys Chatham & Ghédalia Tazartès
Books
Mes démons – Edgar Morin
Mémoires d'Hadrien – Marguerite Yourcenar
The Medici – Colonel G.F. Young, CB
TV
Borgia
Better Caul Saul
Films
22 July – Paul Greengrass
XTC : This is Pop – Roger Penny, Charlie Thomas
Also : visiting Hadrian's Villa and Villa d'Este in Tivoli.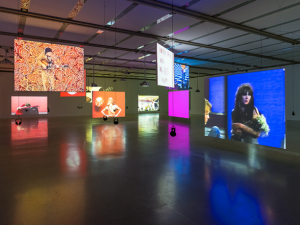 picture: exhibition Double Lives – Visual Artists Making Music – Mumok Vienna 2018
TEA TIPPEX (TEA SO

Ž

A)

Playlist
Céline Gillain – You're Magic (Bad Woman/ 2018)
The Makers – Don't Challenge Me (7″/ 1980)
Interference – She Said Destroy (Interference/ 1982)
Klaus Weiss – Survivor (Time Signals/ 1978)
DJ Spanish Fly – Shoot Trigga Man (online radio)
Roxy Music – In Every Dream Home A Heartache (For Your Pleasure/ 1973)
Bruce Gilbert – Epitaph For Henran Brenlar (The Shivering Man/ 1986)
Bene Gesserit – Kidnapping (7″/ 1982)
Jon Hassell – Malay (Dream Theory In Malaya / 1981)
COH feat. Little Annie – 46 Things I Did Today (CoHgs/ 2017)
Swamp Dog – I'll Pretend (Love, Loss, And Auto-Tune/ 2018)
Leslie Winer & Jay Glass Dubs – Cogged (YMFEES/ 2018)
Laszlo Hortobagyi – Harmological (Transreplica Meccano/ 1986)
Cool Breeze – Cre A Tine (East Points Greatest Hit/ 1999)
Marie Davidson – Excès De Vitesse (Un Autre Voyage/ 2015)
Brötzmann / Leigh – This Word Love (Sparrow Nights/ 2018)
Lucrecia Dalt – Tar (Anticlines/ 2018)
Karin Krog – Just Holding On (Freestyle/ 1986)
Tres – I Doubt (La Contra Ola V/A/ 2018)
Spike – Fooling Around (Orange Cloud Nine/ 2013)
$hit & $hine ‎- You Were Very High (Very High EP/ 2018)
Pete Rock – Truth Is feat Black Ice (Soul Survivor II / 2004)
Garland – Lead.Dub (Preludes # 1/ 2018)
Prince – 17 Days (Piano & A Microphone 1983 Version/ 2018)
Pre Fix – Ectomorphine (Underneathica•Ectomorphine/ 1981)
Ben Vince – Sensory Crossing feat Rupert Clervaux (Assimilation / 2018)
Live
Nurse With Wound (UK) at Elevate Festival, Graz
Bitchin Bajas (US) at Rhizom Festival, Zürich
Hermann Nitsch (AT) at Mumok, Vienna
Jung An Tagen (AT) at Unsafe+Sound Festival, Vienna
Blurt (UK) at Rhiz, Vienna
TOM TIPPEX (TOM RELLEEN)

Catherine Christer Hennix – Selected Early Keyboard Works (Blank Forms)
John Hassell – Listening To Pictures (Ndeya)
Matthias Puech – Aplestres (Hands In The Dark)
Lucrecia Dalt – Tar (Anticlines/ 2018)
Jonathan Fitoussi – Diagonals (Hands In The Dark)
Gumba Fire – Bubblegum Soul & Synth Boogie in 1980's South Africa (Soundway)
Tim Hecker – Konoyo (Kranky)
Kruangbin – Con Todo El Mundo