THINKING OF TOM RELLEEN / BY DAVID MORRIS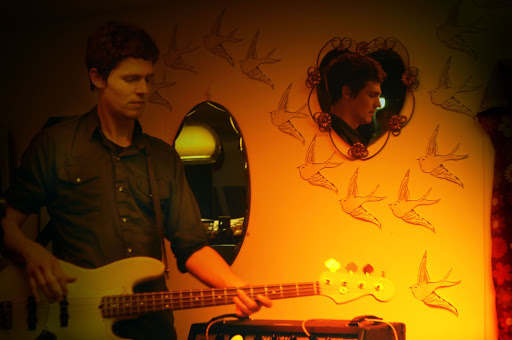 Tom Relleen, March 20th 2010, Voice of the Seven Thunders at Miss Peapods, Penryn. Photo courtesy of Holly Jarvis.
I first met Tom Relleen in March 2010 when he came to Penryn, Cornwall, to play bass with Voice of the Seven Thunders at a show I had booked. What followed was a decade of friendship and collaboration. Following Tom's death on Sunday night, communications have flowed between those who loved him and I have come to realise how many friendships and pivotal experiences in my life had come into my world through his devotion to making good things happen.
Over the span of two nights, including a roaring performance from Voice of the Seven Thunders and a day exploring Cornish coastlines, I felt a mutual recognition take place between Tom and I. A month later Tom came to visit, attending another show I had arranged with the Swedish group Träd, Gräs & Stenar, but principally to go on a recce of potential sites for a festival; a plan we had hatched within a fortnight of meeting. Our initial aspiration was to use Goonhilly Satellite Earth Station, a defunct radiocommunications site which had recently been operated as a theme park somewhat comically called 'Futureworld', whose main selling point was a fleet of segways. With 30 huge antennae and dishes (the largest being called 'Merlin'), it stands out on Goonhilly Downs, a savannah-like flat plain on the Lizard peninsula. We imagined Acid Mothers Temple performing beneath Merlin, saturated with gel light projections.
We never realised the festival dream, but continued to work together. Tom spent over a decade as a booking agent with the Julie Tippex agency. He grew a reputation for a roster of propulsive, experimental music, with a few idiosyncratic outliers. Amongst others in the heavier psych scene he represented Acid Mothers Temple, Bardo Pond, Lumerians and The Oscillation, a trio with whom he played bass; this coherency made him a go-to contact for the psych festival and club show scenes that were coming into their own at the time, and continue to flourish. The line-up for Supersonic festival frequently included a batch of artists represented by him, whilst other acts such as Richard Youngs, Silver Apples and Damon and Naomi spanned the listings for Cafe Oto, a venue where I would meet Tom at least once a month following my move to London.
In my last year of booking shows in a Cornish village, Tom made it possible for me to bring personal favourites including US trio Pontiak, and Ghost guitarist Michio Kurihara. As a young and somewhat fledgling promoter, Tom went out of his way to balance the concerns of all involved. The band: financially but also experientially – not too many long drives, and some nice scenes like a Cornish harbour town. The promoter: who may either need a squeeze for a higher fee or on the flip side might need to talk through the risks – diy independent promoters often burn out, and agents like Tom understood the fragility and magic of the ecosystem beyond the quasi-corporate network that his roster also brought him into contact with. And his own: to piece together a living from the 15% cut of fees that was often exchanged at the Approach Tavern in Bethnal Green at the end of a tour. Bands, whether represented by him or just as friends, often finished their tours with a stay at Tom's bunker, loaded with foldout beds and a stack of new records, primed and ready for tired musicians to relay tales of the tour; from the great show to the empty room with the reluctant promoter who had to be cornered at the local chippy for payment.
From a personal perspective, what I really want to tell you of are the many occasions when I heard the passion in his voice, and saw the joy in his eyes, which flowed when he knew that via spreadsheets and endless emails he was stitching together a tapestry of deep love for music across Europe. He was a bright hub of the mycelial network, and he loved to facilitate these exchanges of esoteric nourishment between friends and strangers. Whilst his work as a musician, promoter and agent will be widely remembered, I was also privileged to be one of the friends for whom he would go upstairs to bring down his latest find: an antiquarian's autobiography wherein the secrets of dowsing for flint arrowheads was revealed, a particularly unique graphic novel that he had picked up in Soho, or a good bottle of wine.
When I moved to London in 2012 his recommendation brought me in as an apprentice agent with Julie Tippex. Learning with him over the course of a few months, for no personal reward, he equipped me to work as an agent, flexible part-time work which saw me through my undergraduate studies as a mature student and allowed me to gradually develop a roster which included bands I had long been a fan of, and new discoveries, without heavy curation from above (part of the reason why Julie Tippex remains one of the best). I also lived with Tom during this time and we became a team, our bands playing shows throughout the year, a constant stream of fascinating creative people flowing down the narrow hallway into his living room, where the sound of ping-pong balls bouncing would mingle with laughter and Henry Flynt records playing through four perfectly positioned speakers, whilst Bitmap the cat held court on a cardboard box.
In 2013/14 Tom began to realise an aspiration that he had talked of often – to find an outlet for his own creative voice. His partnership with Valentina Magaletti in Tomaga represented a realisation and constant evolution of this desire. Their work, particularly in the live setting, remains for me some of the most powerful musical experience of my life. Valentina's unbounded percussive work was often filtered through an array of synth and process on Tom's table, which he tweaked between playing precise but seductive basslines. It was thrillingly affective, gutsy and synergistic, offering strange bliss concurrently with dissonance, using sounds that whilst alien and novel had enough organic or visible source to allow the uncanny to enter the space; the acoustic troubling the synthetic and vice versa. Their recent collaboration with composer and experimental instrument maker Pierre Bastien opened new directions. Tom and Val created a perfect setting for his innovative semi-automatic noise boxes to astound, whilst asserting their own particular voices.
This leaning in to explore the cognitive and affective experience of ambiguity also holds true for Tom's thought. He was a deep thinker, one who would be willing to reflect on fundamental irresolvabilities with a friend, his own or theirs, with a questing spirit that was underpinned by gentleness and compassion. In the few visits I had with him, following his diagnosis during lockdown, I saw this orientation manifesting brightly. He looked at mortality squarely, and when I read Carl Jung's proposition "that which we need the most will be found where we least want to look" it recalled Tom's approach to life. During brief windows between chemo we were able to share a meal, listen to music, and sketch out future plans. He could hold the joy of friendship, of love for his partner and collaborator Marta, and an awareness of the imminence of his own death in one moment. I want to believe that his lifelong explorations of the complexity of experience allowed him to be present with them all, and I will say that I saw this in his eyes, and that they beamed some kind of terrifying wisdom into me.
It perhaps goes without saying that I admired Tom, and yes, I always wanted to be in a band with him. He was never particularly enamoured with the folk-rock-songwriter vein that my band explored, making him a good critical friend, so I was hesitant in this expression of a wish to collaborate. In March 2019, when I was five months into a nine month meditation retreat at Gampo Abbey, a Buddhist monastery in Nova Scotia, I received a communication from Tom. Whilst planning a visit to an old friend in Eastern Canada, he had realised he would be one and a half hours drive away. He visited in May, and we spent the day together. He was the only person from my prior life to meet me whilst I was living as a monk in robes and it helped pave the way for the integration I would roughly stumble my way through upon my return in August. In his last months we reflected on that day; the rugged inhospitableness of the land, the fierce wind, the friendly atmosphere of the Abbey.
During the course of the day we walked along the cliffs above the Gulf of St Lawrence, and climbed a small mountain. The picture of us shows that scene.  On this mountain walk we talked about life, and, just as in 2010, we planned big things. He encouraged me to go for what felt like a pipe-dream I was harbouring, and months later when I left the Abbey I went for it, resulting in a new album of music. Friends of mine who knew Tom through occasional gatherings have said the same, he would take the creative inclinations of others to heart, and encourage them on that path. He would pick out what made a person, a sound, a piece of art, or even a peculiar cheese, unique and he would bring his attentiveness close to explore how this quality played out and catalysed the whole. He would also erupt with laughter at a joke told on the road. He was a close friend to me whilst I grieved the death of my father. He loved a dear eccentric feline, and let me look after her sometimes when he was away. He was depressed sometimes, and I wouldn't even know how to say good morning to him. He was trustworthy and also private. He would hold a secret indefinitely.
On the mountain, Tom also mentioned a new band he was putting together, with Agathe Max (his musical partner in Papivores), Jem Doulton (his bandmate in The Oscillation) and Marta Salogni (producer and tape artist). He mentioned that they imagined room for some guitar, my heart leapt up and I said "perhaps I could try out…?". This led to a period of creative unfolding between September and December 2019 that flooded me with renewed musical joy, altered understandings and curiosity in my craft. Every improvised session was recorded, and the result is a double album of music that we are all intensely proud of. The last time I saw Tom, along with the others in this collective called Melos Kalpa, we agreed on the final song selection and sequence. We spoke of playing together when Tom was well enough to do so, even if just for a half hour. He told me that since his visit to the Abbey he had been reading a book by the resident teacher there, Pema Chödrön, which had been helping him to face the experience.
Tom Relleen once called me The King of Convergence, following numerous strange coincidences in my life, so dear Tom, my prayer goes like this: may our love for each other bump into itself somewhere out beyond Futureworld, and I'm fairly sure the void wants to hear one more Tomaga gig so get the contact mics and the Korg out please.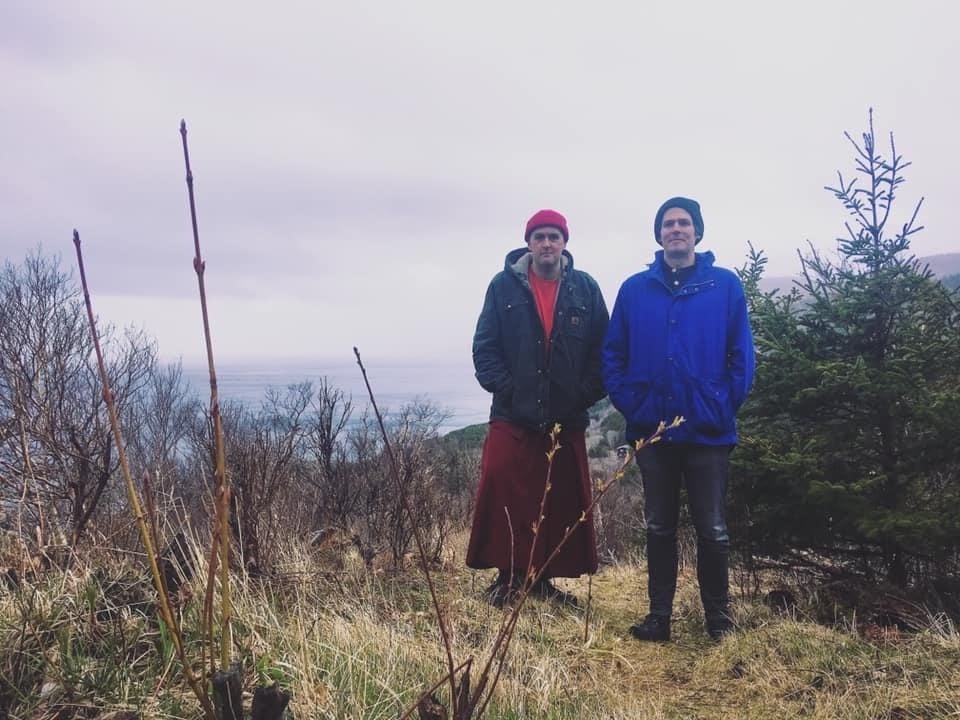 Tom Relleen and the author, near Gampo Abbey, Nova Scotia, May 2019. Photo by the author.