AFRIRAMPO STREAMING SHOW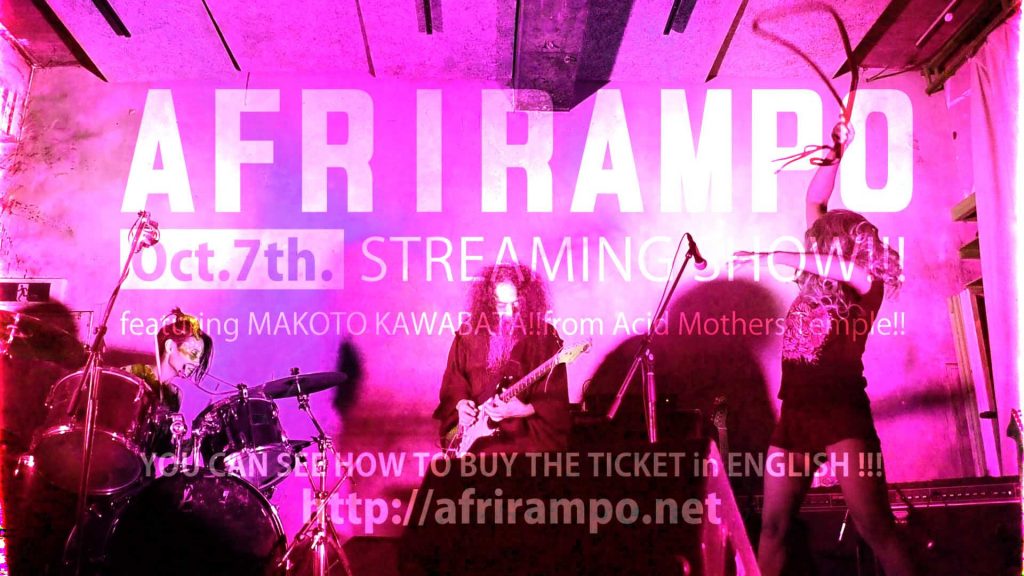 Afrirampo present their first livestream for overseas fans!!
With special guest Makoto Kawabata!!
The music created by these three will entice you into a cosmic psychedelic world without end!
The stage set for this special performance has been created by artist Yoshihito Mizuuchi and is guaranteed to create a delightfully chaotic reaction!!!
The stream will be archived and viewable for two weeks!
Streaming tickets are available here.
Check out the trailer here.
October 7th, 13:00 – 14:30 (JST), streaming live from Fandango in Sakai.
15:00 ~(AEST)
06:00 ~ (CEST)
05:00 ~ (BMT)
00:00 ~ (EDT)
23:00 (6th) ~ (CDT)
22:00 (6th) ~ (MDT)
21:00 (6th)  ~ (PDT)
You can see how to buy the ticket here!
https://note.com/afrirampo/n/nfe4ad97d9fcf
Promotion video :