VALENTINA MAGALETTI PLAYS THE BATTERIE FRAGILE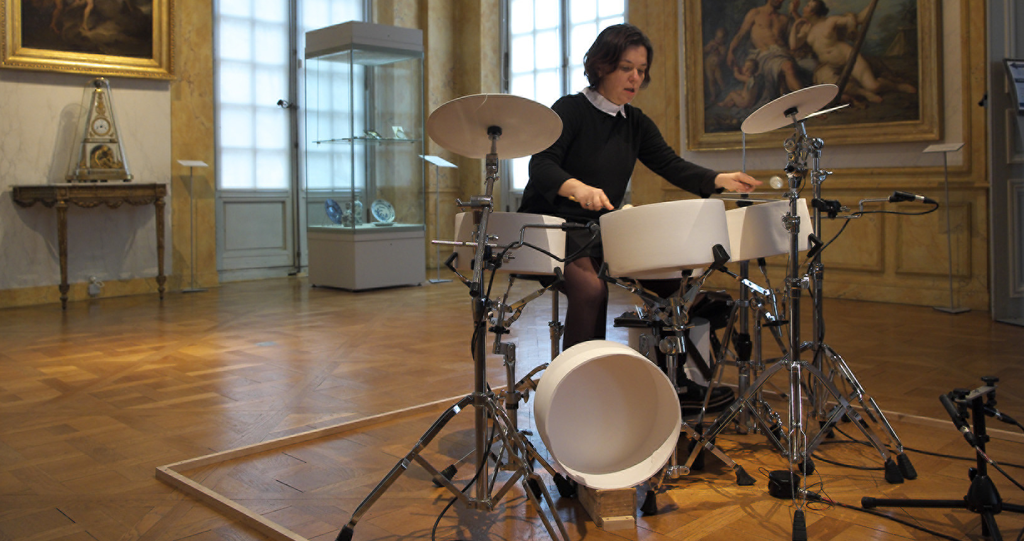 London based Valentina Magaletti, fantastic drummer for Tomaga, Vanishing Twin. Composer and percussionist she tries to enrich the folkloristic and conventional palette of her listening, experimenting with new materials and sounds. She worked, performed and co-wrote with many artists including Nicolas Jaar, Holy Tongue, Graham Lewis (Wire, Dome), Thurston Moore, Bat for Lashes and many more.
For this Tour she plays on a sculpture conceived by artist Yves Chaudouët, the Batterie fragile, a drum-kit made out of porcelain.
Yves Chaudouët is a French visual artist, playwright and filmmaker. Graduated from National School of Fine Arts in Paris. His first interest was painting, but as from the 1990s, he began to experiment with other art forms such as filmmaking and installation. For Sophie Kaplan, director of La Criée – centre d'art de Rennes, Yves Chaudouët's research is essentially reflexive : "the actual medium of his pieces is the creative process itself".
A new version of the Batterie fragile ready to tour with Valentina has just been made in ENSA Limoges porcelain workshop. This solo show on an unlikely sounding instrument is as poetic and unique as you may expect.
Booking: nico@julietippex.com
---