Photo @Sarah Makharine
BOOKING OF CHLOE'S ART PROJECTS BY PASCAL@JULIETIPPEX.COM
Please note:
– Worldwide Dj sets booking by LITTLEBIG International Booking Agency
– France Dj sets & Live booking by Dif  peggy@dif.productions

CHLOÉ's transversal approach to deejaying has always been an integral part of her creative path, feeding her work as a producer (and vice versa).
Since her years at the Pulp, a mythical underground venue and haven of inclusivity even before this word was part of today's music vocabulary, CHLOÉ has helped define the transformative power of a club and the emotional power of a DJ set. Away from the over-commercialisation of electronic music, she has championed a versatile and out-of-the-box electronic music practice that inspires fans and artists alike.
In recent years, she has played at major festivals (Mutek, Burning Man, Sonar, DGTL, Nuits Sonores) as well as holding a residency at Rex Club. Her sets are a unique experience, as CHLOÉ often performs in all night long formats that allow her to take the audience on unexpected journeys. She manages to create unique connections between various musical aesthetics, physical and mental sensations. An oblique way of approaching the dj set without leaving the audience on the sidelines, which has made her reputation with dancers all over the world.
The production of tracks that have become iconic has allowed her to further establish her approach. The Dawn (on the Endless Revisions album, Nemone's favourite record on BBC6) manages to develop a long melody between minimal techno and new wave, tinged with the heritage of Steve Reich. The more frontal Mars 500 (Permanent Vacation) and its early house accents bathed in psychedelia or Night Rider (DGTL), an emotional minimal wave played with a techno fever, are other unstoppable tracks that the public could taste on record before appreciating their power on the dancefloor.
She has also shone in her remix work for artists as varied as Metronomy, Etienne Daho, Malik Djoudi, Ezechiel Pailhès, Feu Chatterton, Mirwais, to whom she has offered inventive reworks bathed as much in her approach as a producer as in her DJ skills.
At the helm of her own label, Lumière Noire Records, capable of performing in clubs as well as festivals, in museums or halls dedicated to contemporary music, CHLOÉ is a key artist on the current scene, where each track she plays contributes to lifting us a little further away from reality and prefabricated schemes.
CHLOE has a number of Art Projects:

CHLOE AND VASSILENA SERAFIMOVA: SEQUENZA
CHLOE and classical percussionist Vassilena Serafimova were invited to create a Tribute to Steve Reich by French TV producers. They both enjoyed it so much that they decided to take the project further. Among many concerts they performed at Classical Next, Festivals Maintenant, Mimi, Marathon, Astropolis, Days Off Festival…
Watch them live at Orly Airport:
"Sequenza", CHLOE & Vassilena Serafimova's first joint album out on Lumière Noire. 
Original concept by Sourdoreille Production, la Compagnie des Indes & Culturebox.
CHLOE and Vassi were invited by Xavier Veilhan at Biennale de Venise:
Ce projet est soutenu par le CNM.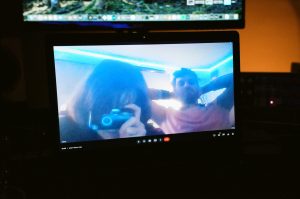 HIGH SEASON
CHLOE and Ben Shemie (Suuns) collaborate for the first time with the album "The Call" (out on Permanent Vacation, 2023).
Produced as a hybrid back-to-back, this first album consists of reactions, collisions and syntheses between CHLOE's psychedelic writing tinged with a love of the dance floor and the very particular voice of Ben Shemie, a poetic instrument with infinite possibilities.
The live show premiered at Printemps de Bourges and Festival Days Off at La Philharmonie de Paris in 2023.

CINEMIX HITCHCOCK "BLACKMAIL" (1929)
A very rare and silent Hitchock movie. During a date, Alice White (Anny Ondra) has a fight with her boyfriend, Scotland Yard Officer Frank Webber (John Longden), and decides to leave with an artist named Mr. Crewe (Cyril Ritchard). Whey they get to the artist's flat, Mr. Crewe attempts to force himself on Alice, and she kills him to defend herself. Frank investigates the case and, after realizing Alice is the culprit, seeks to help her. However, a thief (Donald Calthrop) with blackmail on his mind complicates matters.
CHLOE created the live music at La Cinémathèque de Paris in 2012.

SLOMO A/V
SloMo A/V is the meeting of DJ and producer CHLOE Thévenin, who works in the studio to build soundscapes, Dune Lunel, Paris-based art director, who has worked in the cultural field for over twenty years (her studio has produced many visual identities, with dynamic links between image and text), and Adrien Godin, a young artist from ECV Digital in Paris (Visual Communication school) who works as an art director and graphic designer.
Ce projet est soutenu par le CNM.

HONG KONG REBOOT WITH JÉRÔME GAME
What do we get when an electronic musician who collaborates with artists and filmmakers meets a sound poet who learned writing with stage designers and visual artists? A duet where two universes meet, with a common hybrid and open practice, collaborating to produce an unidentified sound piece. Created at Festival Masnâa / Institut Français de Casablanca, Morocco in 2015.

LIVE : SURREALISM : "CHASSER CROISER, LE SURREEL ET SON ECHO"
The  project was a command from Centre Pompidou and France Culture and premiered in Paris in 2011. CHLOE mixes her music with the voices of surealist poets Man Ray, Marcel Duchamp, Louis Aragon… for a very surealistic show.  Watch a video here.

CHLOE X IRCAM
A work in constant progress with the prestigious IRCAM in Paris. The audience of CHLOE's show connect to  an app which allow them to download CHLOE's sound, remix them and send them back to CHLOE for inclusion in her set.
The project began in 2014 and is still developping with state of the art technology. It can be a live show or an installation.
BOOKING BY PASCAL@JULIETIPPEX.COM