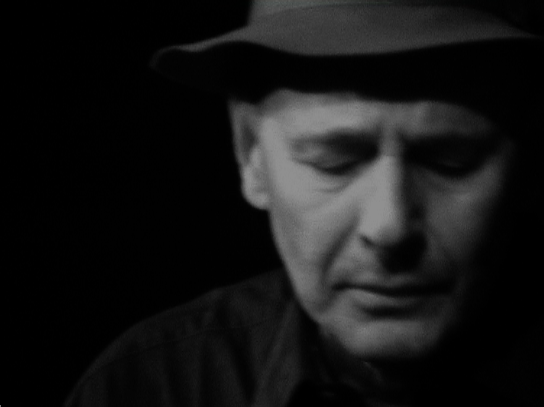 French cult artist Ghédalia Tazartès was an uncompromising character who defied categorization. He recorded alone more that 20 albums, calling his Art "Impromuz" for lack of a better term. Before the years 2000s, his public appearances remained exceptional events.
Ghédalia Tazartès' music has always been a mystery. It switches from musique concrète to – existing or invented – ethnic music, from poetry to noise, or from loops and collages to sad and extremely beautiful tunes in a second, but it constantly is in flux and coherent.
In 2004, Ghedalia finally decided to do live performances again. He first worked with other musicians (Les Reines d'Angleterre, David Fenech & Jac Berrocal, Norscq & Black Sifichi, Nicolas Lelièvre) then went solo for ten years.
Since 2009 Tazartes played many shows across Europe. After performing a cinemix to the incredible "Haxan" silent movie in 2011, he presented in 2013 a new solo show at CTM in Berlin Festival to a packed HAU2. The new show was based around the music of his album 'Coda Lunga.' Says Tazartes: 'I thought I had only played for 5 minutes in Berlin… then I realised I had been going on for more than one  hour!'
In 2018 Ghedalia decided to stop playing solo and to collaborate with other musicians again: Maya Dunietz, Rhys Chatham, Chris Corsano and Dennis Tyfus, Quentin Rollet and Jérôme Lorichon…
Ghedalia died in Paris on 9th February 2021.
VIDEOS:
Rhys Chatham & Ghedalia Tazartes 08/09/18 Paris, Le Jardin de Simone from NO MORE RETURN on Vimeo. This was the first show of the meeting of the two giants.
GHEDALIA TAZARTES, QUENTIN ROLLET, JEROME LORICHON: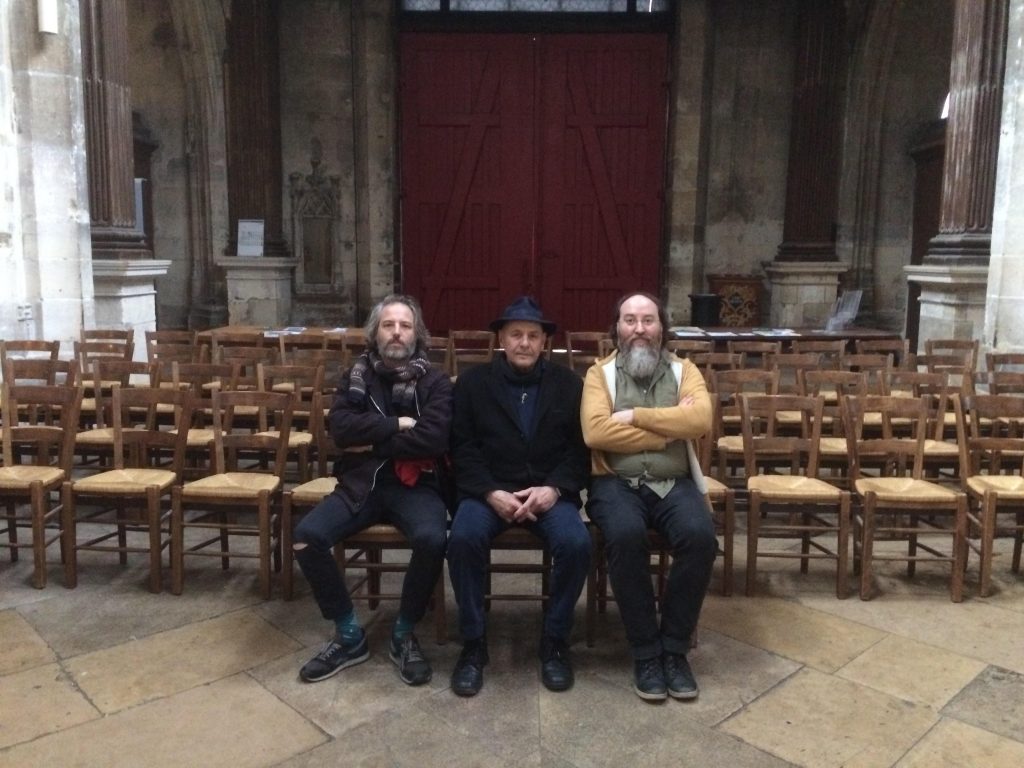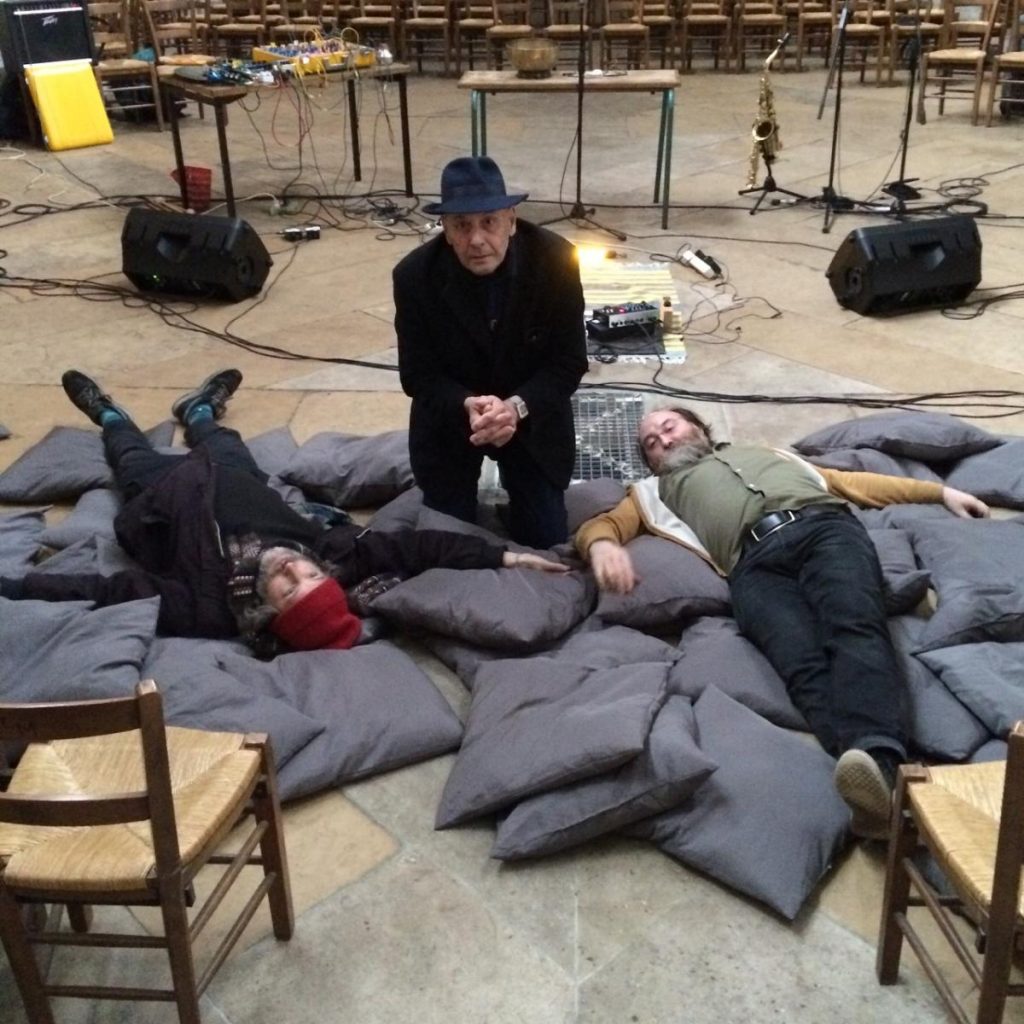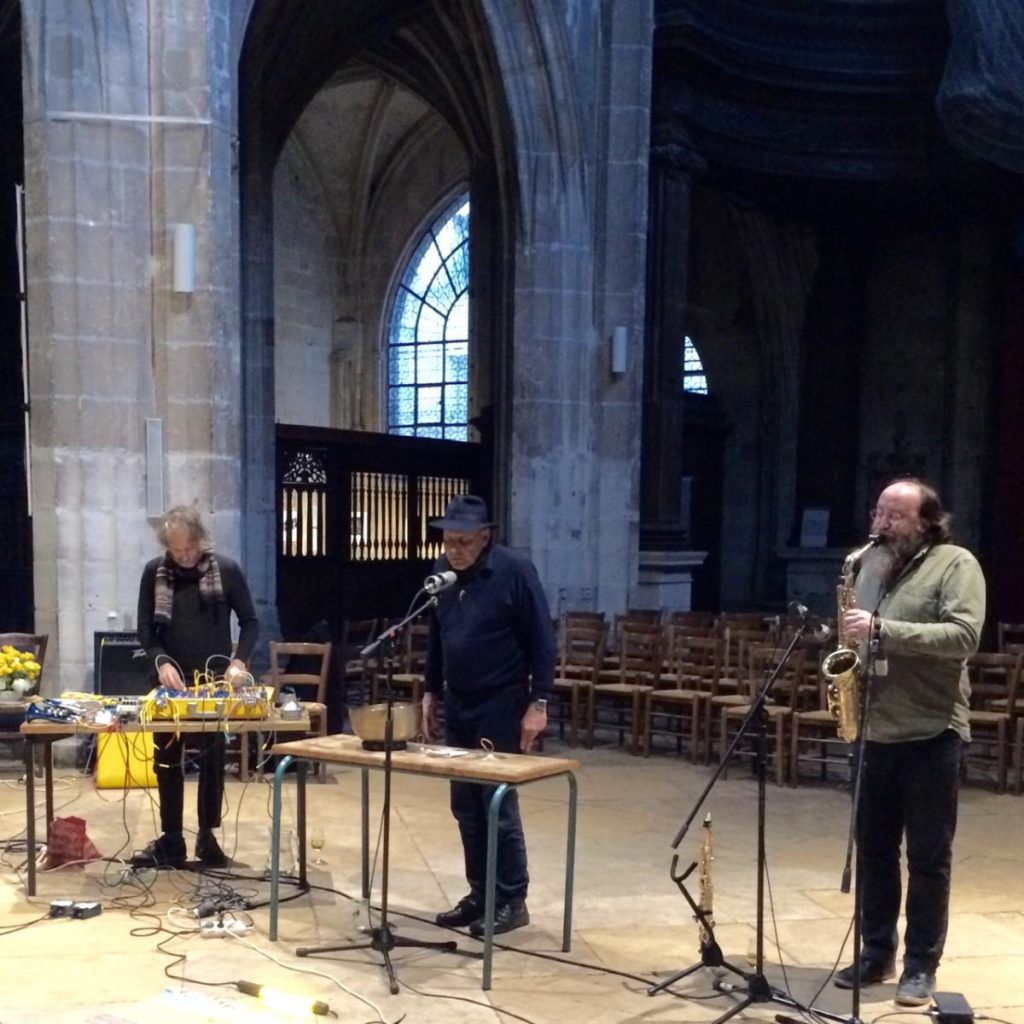 Photos by the Laureau brothers
In 2008, Tazartes had been invited to perform for the Patti Smith exhibition at the Fondation Cartier in Paris. In the same Cartier Foundation he later created the cinemix "Häxan" on April 21st 2011 for the "Vaudou" exhibition and toured with the project for a couple of years to great aclaim.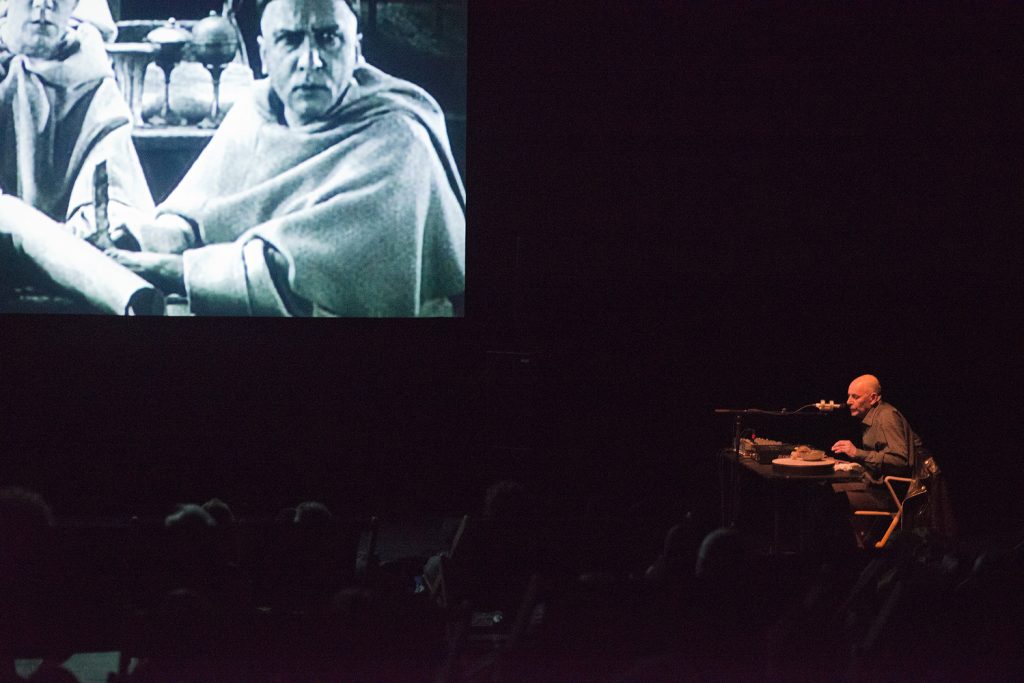 ©Martin Argyroglo pour le Lieu Unique (Nantes).
Live at BBMIX, France, 2014
.
Live in Rome, 2017
DISCOGRAPHY :
* Diasporas, LP, recorded 1977,  Cobalt, 1979
* Quelque Part Quelqu'un, mini LP, recorded 1978, released 2011
* Tazartès Transports, LP, recorded 1979, autoproduction, 1980
* Une éclipse totale de soleil, LP, recorded 1979, Celluloïd, 1984
* Tazartès, recorded 1979, LP, AYAA, 1987
* Check Point Charlie, CD, AYAA, 1990
* Voyage à l'ombre, CD, Demosaurus, 1997
* 5 Rimbaud 1 Verlaine, mini-CD, Jardin au Fou, 2006
* Les danseurs de la pluie, mini CD, Alga Marghen, 2006
* Alma Marghen Anthology, 4cd box Alga Marghen 2006
* Jeanne, CD, Vand'Oeuvre, 2007
* Hystérie off Music, CD, Jardin au Fou, 2007
* Repas Froid, CD, Tanz Procesz, 2009
* Les Comores w. Reines d'Angleterre, LP, Bo' Weavil Recordings, 2009
* Ante Mortem, CD, Hinterzimmer, 2010
* Works 1977-79, 4 LP-Box, Vinyl on Demand, 2011 (read more below)
* Repas Froid, reissue LP, PAN 17, 2011
* Granny Awards, LP, PAN Marghen, 2011
* Globe et Dynastie w. with Reines d'Angleterre, Bo' Weavil Recordings, 2012
* Coda Lunga, CD+DVD, VDN 816, 2012
* Voyage à l'ombre, reissue CD, Hinterzimmer, 2013
* GOL et Ghédalia Tazartes – Alpes, recorded 2011, LP Gollaberation vol.6, Planam Golta, 2013
* LA., LP, dBUT interambiance 007, 2014
* Ghedalia Tazartes, Bruno Letort, Cube Quartet, Etenesh Wassié, Semelles de Vent, Cubic Series #13, 2014
* Il regalo della Befana 12″ S/Sided, Holiday Records, 2015
* La Bar Mitzvah du chien/Don't cry for me LP Bisou Records 2016
* Vooruit 17.05.2015 (live with Chris Corsano and Dennis Tyfus), LP Ultra Eczema 199, 2016
* Ghedalia Tazartes, Paul Romanchuk, Andrzej Załęski, Carp's Head, MonotypeRec, 2016
* Ghedalia Tazartes and Maia Dunietz, Schulevy Maker, recorded live at Café Oto, London in 2013, issued in 2017, Holo7
* Parrenin Weinrich, Jours de Grève, w. special guests Tazartes & Quentin Rollet, Versatile Records, 2020
* Quoi qu'il en soit (a 40-page book with photos by Tazartes) + live CD by Tazartes, Quentin Rollet and Jerome Lorichon. Bisou Records, 2021.
PRESS :
Ghédalia Tazartès's unusual home and music studio, which the musician (who has lived there since 1967) sees as fundamental to his compositional work. "Without it, I don't know if I'm a musician", he told Nick Cain in the interview.
"Ghédalia Tazartès is a nomad. He wanders through music from chant to rhythm, from one voice to another. He paves the way for the electric and the vocal paths, between the muezzin psalmody and the screaming of a rocker (…) Ghédalia is the orchestra and a pop group all in one person; the solitary opera explodes himself into an infinity of characters. The self is multitude and others. The author and his doubles work without a net, freely connecting the sounds, the rhythms, his voice, his voices. The permanent metamorphosis is a principle of composition, it escapes control, refuses classification. Off limits, music descends, cries and screams when it touches the ground." (André Glucksmann)
"[…] every so often, someone introduces us to a piece of music that's just so downright bizarre, so totally unlike anything we've ever heard, it really doesn't need any kind of wacky backstory or WTF visual accompaniment. Such was the case with French musician-composer Ghédalia Tazartès and his 1979 masterpiece, Diasporas. […] Trust us: Don't listen to it alone after dark or in an altered state of consciousness. Actually, listening to this will probably alter your consciousness all by itself. […] We could attempt to describe Tazartès' music–French avant-garde gypsy trance minimalism?–but really, there's not much point. You just have to hear it. This guy is attuned to some other frequencies, for real. weirdestbandintheworld.com
You need to have this as a part of your life, whether you are a indie rock nerd or a black metal nerd. http://iownsomerecords.tumblr.com
Unusually personal & intimate musique concrete have made Tazartes' name a watchword for people with serious ears (and a cd reissues on Alga Marghen in the early 2000s certainly helped too). Fluid field recording loops of children talking & gabbering in French, with somber muted organ drone swaying slowly along behind them. Tazartes' crackshot & cathartic vocal wailing is as beautiful as a blade of grass, & there's plenty of it here along with metal riffs, koto boings, doom-laden classical strings, & other oddities. There's even some recordings of Tazartes' daughter & piano bits. Includes 'Diasporas', 'Une Eclipse Totale de Soleil', 'Tazartes', Transports' and a 10 inch of unreleased material called 'Quelque Part Quelqu'un'. http://weirdorecords.com
If you wanted to own a record of music that is absolutely different from almost anything you've known or heard, snap to it: Dais' reissue of the NWW List-approved vocal melee by Parisian pyrrhic warbler Ghédalia Tazartès is instantly one of the most difficult records of my nearly 35 years aboard this dying mudball. Calls to prayer meets calls of strangulation, calls of possession, a spiritual intifada from the darkest corners of the cabarets to the recording studio to the vastness of the desert's sprawl, all channeled through Tazartès' extreme styles, going from soaring wails to multi-toned throat singing, sometimes in the same track. This is nightmare music that'll make you feel unclean and weird, designed to break your concentration and focus on it and it alone. And if you can deal with it, you're tougher than me. 500 numbered copies. (http://www.daisrecords.com)
"4LP-Box with 10″ Tazartes Transports, Tazartes, Diaspora, Une Eclipse Totale De Soleil, and Quelque Part Quelqu'un. The French artist and autodidact Ghedalia Tazartes who is born in Paris in 1947 is a true nomad spending more than 30 years within musical practice and experimentation. Ghedalia is the orchestra and a pop group all in one person: the self is multitude and others, freely connecting the sounds, the rhythms, his voice, his voices. The extra-European music opens the ear to Ghedalia's intra-European exotism. The permanent metamorphosis is a principle of composition; it escapes control, refuses classification, diametrical to the purists of synthetic culture and technocrates of noise. He wanders through music from chant to rhythm, from one voice to another. Utilizing magnetic tape recorders, he paves the way for the electric and the vocal paths, between the muezzin psalmody and the screaming of a rocker. He traces vague landscapes where the mitre of the white clown, the plumes of the sorcerer, the helmet of a cop and Parisian anhydride collide into polyphonic ceremonies. This box concentrates on his early works from 1977-1979 and his four officially released vinyl-LP's plus a 10" of an unreleased work from 1978. All the material is superbly remastered for vinyl by Anders Peterson of www.ghostsounds.net pushing the overall quality and dimension in sound to an amazing new level and experience." SquidCo
'Transports' is the incredible 2nd album by audodidact and outsider musician/composer Tazartès. Originally released on vinyl in 1980, it has now been reissued with extra material on CD in 1998 and 2009, and "Probably represents the most original example of the artist's poetical and personal approach to sound organisation." The tracks for 'Transports' were recorded in 1977 at Ghedalia's own studio in Paris, strafing stream-of-conscious between rippling electro rhythms to outernational singing styles, collaged field recordings and musique concrete, to chants, tape loops and exotic atmospheres with a perpetual sense of drift and magical imagination. We're spellbound from the first to last, through the deeply evocative peal of church bells and swirling synthetic textures in track 2, via humid sci-fi scenes and alien avian chatter on track 5 and the lost zones of the closing stages. Also included are the two parts of 'Transports' which were composed and recorded for a theatre piece later in 1997 and produced by Emanuele Carcano. These are denser, more spacious and dramatic, but not necessarily that great. The disc concludes with 'Elie', a charming piano piece performed in duo with the composer's young daughter. For the original 'Transports' at least, this is nigh on essential for fans of adventurous electronic music and composition. http://boomkat.com
Un orchestre à lui tout seul (sa voix se transforme en voix d'enfant , de femme, de viellard, de chamane). "Il assemble des éléments sonores de différentes natures. De la musique jouée avec de vrais instruments, par lui et, le cas échéant, des invités. De vraies chansons traditionnelles. De la poésie savante ou populaire. Différentes langues minoritaires ou majoritaires, utilisées pour leur place symbolique dans le grand jeu de la domination culturelle. Une langue inventée par lui, aussi, spécialement pour chanter, et cristallisant ce que toutes les langues oublient de dire. Et il replace ces créations sonores de l'homme dans leur contexte bruyant signifiant, dans le grand bruissement de l'univers des choses. Des sons témoignages, des sons d'atmosphères, des prélèvements dans l'environnement social et naturel. Mais il ne les transforme pas en «autre chose» comme il est banal de le faire aujourd'hui avec les nouvelles machines. Non, il conserve leur identité d'origine et en renforce la signification. Ce qui l'intéresse est bien ce qu'ont à dire ces objets sonores du monde qui nous entoure, monde matériel et immatériel, monde de l'échange marchand et non-marchand. Il les rend plus bavards, il les fait parler en les plongeant dans des agencements qui leur sont étrangers. Il coupe et monte des images sonores selon les techniques utilisées au cinéma et cette technique fait ressortir leur sens." (Pierre Hemptine).
"Beaucoup revendiquent un cinéma pour l'oreille, dans cette catégorie, Ghédalia Tazartès est de loin le plus grand de tous. Sa musique assemble des éléments sonores de toutes natures et de toutes provenances. Tout peut surgir d'un moment à l'autre quand on ne s'y attend pas et c'est toujours ce que l'on n'attend pas. On navigue entre Orient et Occident ou on ne sait où. Il y a surtout sa voix ou plutôt ses voix, car elles sont multiples, elles tissent des motifs incantatoires aux pouvoirs hypnotiques, mais il n'y a pas chez lui d'extase monacale ou de dépouillement, Ghédalia Tazartès fait dans la profusion, l'abondance, une jubilation jusqu'à la transe de sons et de mots malaxés dans différentes langues. Ghédalia Tazartès invente quelque chose de complètement différent. Dans les années deux mille, après une éclipse de presque une décennie, Ghédalia Tazartès revient grâce à une nouvelle génération de passionnés (qu'ils soient nommés et remerciés ici : David Fenech, Marie-Pierre Bonniol, Sébastien Morlighem, Dominique Répécaud." (Dominique Grimaud)
"Tazartès fait de la musique expérimentale comme je me fais des pâtes. Fréquemment et sans mode d'emploi. À l'inverse de ce qui se trouve dans mon assiette, ce Repas Froid est succulent. Collages, envolées de voix chamaniques perdues en folies, ces archives déterrées par Tanz Procesz sont équivalentes au meilleur menu du maître. Un OVNI qui se déguste sans fin." (nextclues)
Interview en français par David Fenech
Interview and photos from Ghedalia's legendary Paris appartment in The Wire, 2008.
Ghédalia Tazartès in conversation with Mark Harwood, Cafe Oto, London, 2016.
"Semelles de Vent, Arthur Rimbaud's Trips" by Bruno Letord, September 2019. Ghédalia Tazartès : voice, Etenesh Wassié : voice, Cube Quartet : String quartet.
Libération, February 2021
Les Inrocks, February 2021
Michel Chion, who wrote the music for the song Quasimodo Tango, recalls his collaboration with Ghédalia. February 2021
Beyond The Coda presents several very rare recordings by Ghedalia. February 2021.
The vocalist, improvisor and global sound collagist remembered by his occasional musical collaborator Dennis Tyfus – The Wire, February 2021.
Remembering the Work and Wit of Experimental Innovator Ghédalia Tazartès, By Phil E. Bloomfield · April 27, 2021, Daily Bandcamp