IMAGINARY MUSICS — A FILM PROGRAMME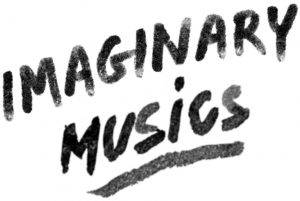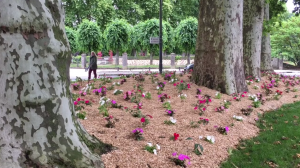 Still from Babylone — a film of Marie-Pierre Bonniol, music by Kraus (2018, 01:13) | Watch on Vimeo
–
IMAGINARY MUSICS — SOUNDTRACK EXTRACTS (MIX FOR SOUNDS UNSAID / DUBLAB.DE, SEPTEMBER 2018)
Imaginary musics – a film programme (2018, video, around 45 min.) is a proposition of Marie-Pierre Bonniol, also founder of Julie Tippex agency (The Oscillation, Tomaga, Zombie-Zombie, Silver Apples, Rhys Chatham, Irmin Schmidt, Lee Ranaldo…) that will be presented for the first time March 2019 around an invitation of Psych in Bloom festival which will take place at Komma in Esslingen, Germany, March 15th and 16th 2019.
The programme consists on a serie of short experimental movies shot on iPhone only during the year 2018 around the theme of Imaginary musics, theme Marie-Pierre Bonniol is working on since a carte-blanche offered by Palace in St.Gallen in 2017. For this programme, she presents for the first time movies under three subthemes: the winter night in Berlin, rediscovering the spring through the bizarreness of a travel to Bourges in France, and motors and transports as allegories of certain mystical consciousness states and dynamics, especially when love is at work, under the crossed influence of W.G. Sebald, Raymond Roussel, Érik Bullot and Laida Lertxundi, the notion of lo-fi, and generally bachelor machines as described by Jean-François Lyotard or Harald Szeemann, metamorphosing "poetics into energy" through machineries.

The artist and curator, also behind many festivals, programmes and exhibitions on the weirdest themes for institutions such as the National library of Argentina in Buenos Aires or Le Lieu unique, edits images as she would do with music tracks, using the ones and mixes of Pierre Bastien, Kraus, Lawrence (Peter Kersten), Gamelan Voices or Waltraud Blischke.
Recently author of a mix for Dublab.de on "Sounds unsaid", but also of a poetry book on libraries published in 2018 by Derrière la salle de bains, the historical beat generation French publisher, Marie-Pierre Bonniol will present with this Imaginary musics programme her pan-european poetics, from Berlin where she lives to Marseilles where she's from, always in transport.
Website | Booking contact | On Imaginary musics (2017)
Available period : March 2018 and all year long for festivals,
also for screenings as single movies, or within other programs
Vimeo channel (not all videos are public, full filmography on demand)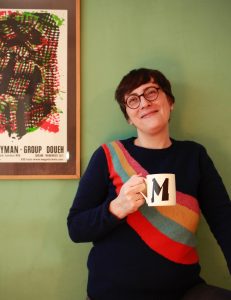 Press photo available in download (credit : Marie-Pierre Bonniol, picture by Bruce Duncan, Berlin, 2018).
THE FILM PROGRAMME (digital, around 45 min.)
---
BERLIN NUIT AND APPENDIXES (2018)
---
–
Berlin Nuit (2018, 15:30, still in production)
Private link: https://vimeo.com/270993861/b2714207f0
A winter diary filmed in Berlin after a stay in Buenos Aires where nature was blooming, ending with daylight and the music of Asmus Tietchens in Hamburg.
With Jan Jelinek, Cathrin Löwner, Keith Duncan, Walter Duncan, Marcus Duncan, Florian Bergmann, Benjamin Weidekamp, Christian Weidner, Frank Gratkowski, Maren Leverentz, Guillaume Ollendorff, Jean Clam, Areski Lhot.
Music by Gesellschaft zur Emanzipation des Samples (G.E.S.), Fo[u]r Alto, Hematic Sunsets
Screenings : Ausland, Berlin (2018, preview)
Helga (2018, 00:59, still in production)
Private link: https://vimeo.com/273604115/b14cf82d37
Short portrait of the German musicologist Helga de la Motte-Haber at her place, complementary to Berlin Nuit
With Helga de la Motte-Haber.
Music by Fo[u]r Alto.
---
THE BOURGES TRIPTYCH (2018)
---
–
Austerlitz (2018, 02:35)
Private link: https://vimeo.com/275364766/eaf8f298fb
Mysteries at Austerlitz train station in Paris.
Music by Kraus.
Bourges (2018, 00:52)
Private link: https://vimeo.com/275345648/28d286e5f5
With the sound of the Astronomical clock.
Babylone (2018, 01:13)
Private link: https://vimeo.com/275327172/3c9d546d33
Video of Babylone's street, in the swamps, in Bourges.
Music by Kraus.
---
MOTORS AND TRANSPORTS (2018)
---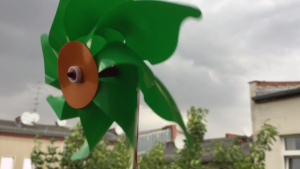 Trois moteurs (2018, 01:55)
Private link: https://vimeo.com/276318982/7beb25ebb6
A poem-card for the filmmaker Érik Bullot, in three motors.
Sound recording by Palix & Ève Couturier.
Images filmed between 2014 and 2018 in Porto Alegre (Usina do Gasômetro ), Pelvoux (Usine hydroélectrique des Claux) and Berlin (Deutsches Technikmuseum, Neukölln, Treptow).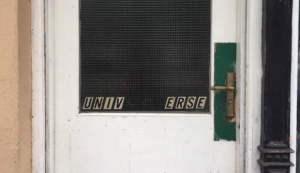 Le cadre (2018, 01:21)
Private link: https://vimeo.com/277365285/f1a9bdb0e3
On frames and impressions of places ; books, images and where they can lead us.
Filmed in Berlin-Neukölln.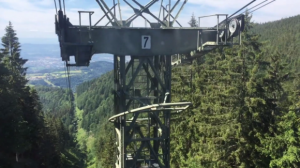 Transports (2018, 15:50, still in production)
Private link: https://vimeo.com/281896793/917b6fa953
Transports is a word used in French for transportation as well as for altered mystical consciousness states and the ones when love is at work.
With Keith, Walter and Marcus Duncan.
Music by Pierre Bastien, Narassa, Gamelan Voices, Lawrence, mix by Waltraud Blischke.
Extracts and artworks of Martin Messier, Érik Bullot, Harald Szeemann, Facteur Cheval and Pascal Quignard
Filmed in Marseilles, Roissy Charles-de-Gaulle, Bern, Sérignan-Plage, Grenoble, Porto Alegre, Freiburg im Breisgau, Sète, Hauterives, Niederfinow, Strasbourg and Berlin.
______
A programmed produced by Studio Walter, in relation with Collection Morel, diffusion by Julie Tippex. Production Studio Walter, Berlin, 2018-2019, with thanks to Marlène Archer, Waltraud Blischke, Keith Duncan, Constance Legeay and Dalia Mansier for their help at different stages of the production ; the people filmed and the musicians behind the tracks in use. Logo of Imaginary musics by Delphine Duprat, 2017.
Some sound extracts of this programme have been broadcasted on Dublab.de within a podcast for Sounds Unsaid, curated by Laura Not, in September 2018 | The Sounds Unsaid podcast