LORELLE MEETS THE OBSOLETE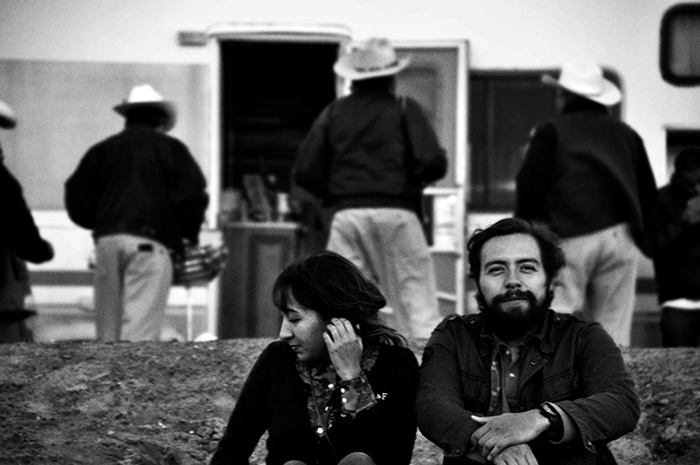 Lorelle Meets The Obsolete are Lorelle (real name Lorena Quintanilla) and The Obsolete (real name Alberto González). They are originally from Guadalajara but, after a stint in Mexico City, are now based in Ensenada, Baja California. After playing together in a few bands they began recording their psych-infused garage rock as a duo and also settled on their unusual moniker, which was half inspired by the recurring fictional film in Seinfeld called Rochelle, Rochelle and half by an episode of The Twilight Zone called The Obsolete Man.
In September 2013 the band toured Europe for the first time to rapturous response. Their new album "Chambers' came out on March 3rd 2014, mastered by Sonic Boom and released on iconic UK imprint Sonic Cathedral as well as Chicago indie Captcha Records (home to Ty Segall, Thee Oh Sees and many more).
"like Stereolab getting wasted on Walter White's finest blue crystal and pretending to be Queens Of The Stone Age"."
NME
About Medicine To Cure Medicine Sickness off Sonic Cathedral's Psych For Sore Eyes: "Their contribution, 'Medicine To Cure Medicine Sickness' finds itself brimming with Jefferson Airplane-style nostalgia, albeit updated and brought to life by Lorelle of the band's moniker's exquisite vocal performance."
Drowned In Sound
"Bands that are totally happening right now" according to Henry Rollins in the LA Weekly:
http://www.laweekly.com/westcoastsound/2014/10/16/henry-rollins-musical-elitism-is-for-lightweights?page=2
"They hammer deep into slurf/riff territory, then blast out pocket universes of pure noise and haunted vocals. Very fine."
WIRE
"Lorelle Meets The Obsolete furthers the punk of groups like The Sandwitches, Medications, and Mikael Cronin by adding yet another layer of mesquite mystique — a.k.a. fuzz-y-Q — to a haunting lurch of dual guitars, middle-of-the-mix bass, and 70s bad-boy-rock drumming."
Tiny Mix Tapes
"What's Holding You?" Official Video
"Sealed Scene" Official Video
"What's Holding You?" live in Creil