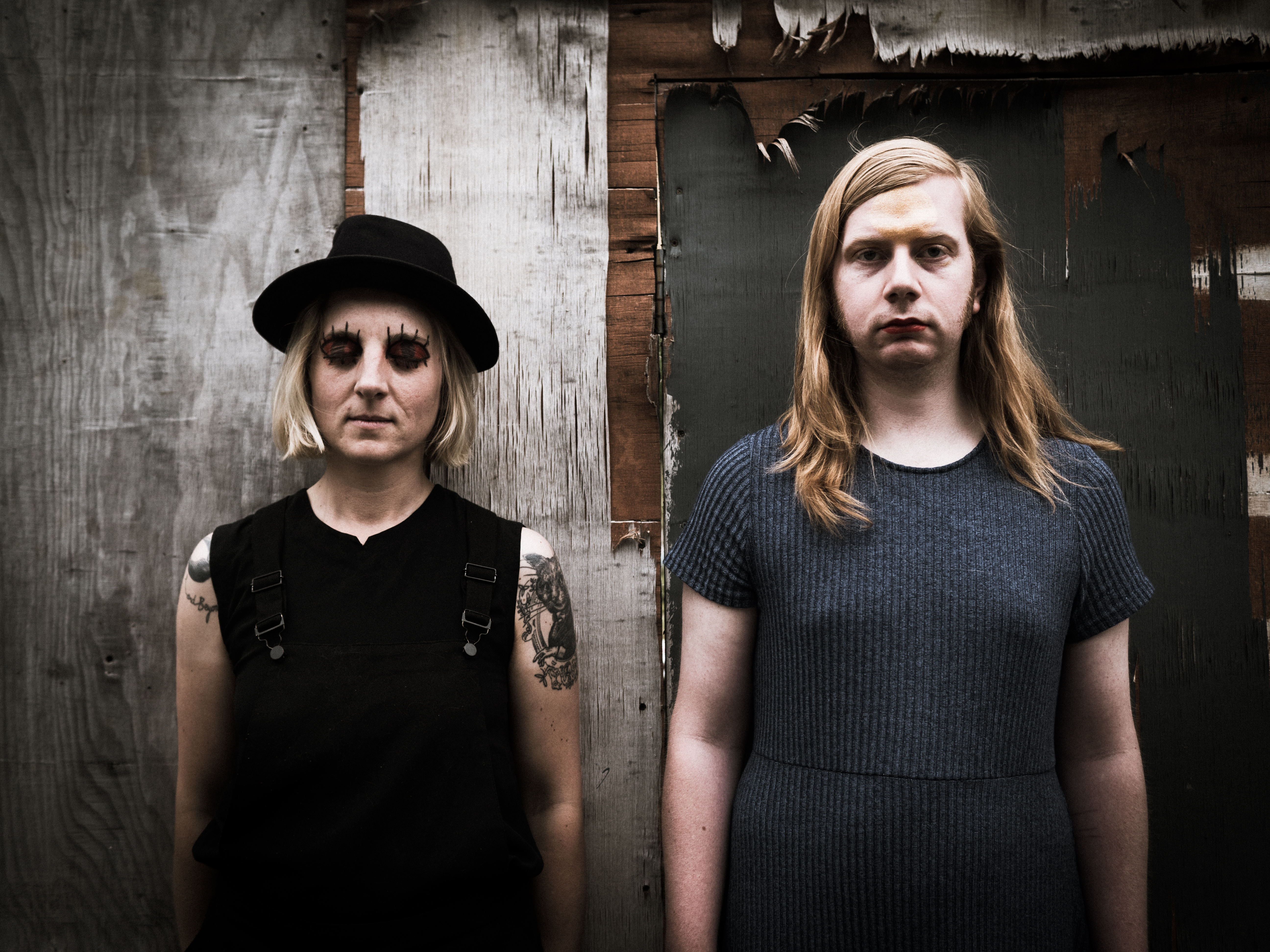 Mésange is a collaboration between composer/violinist Agathe Max and composer/ musician Luke Mawdsley. Their second release, Gypsy Moth, anticipates the forces of nature, creation and rebirth. Mordant musical tapestries (Minimalism, Drone and Ambient) are washed in dense electric skies, exposing signs that flutter and flare in dark elegance. The listener, like the moth is drawn precariously on a journey towards the light, a parchment moon hovering on tides of vermillion heat, where eager wings beat and pulse
abstract sounds.
Ubiquitous modal loops, inspire tension and mystery, a golden harvest where forbidden fruits are gathered by furtive hands mindful of a coming storm. We expect the unexpected  – a host of chimeric beasts and strange familiars that haunt and rehabilitate the souls of  broken machines snarled in barbed wire and trembling flowers. Fleeting birds fall and spin in blue skies, surreal, sublime, queer and uncanny, as strangers ponder the summer snow that settles in the gloom of a shadowy forest. Possessed by electricity, a mercurial gypsy rides the fragile breeze inscribing designs that mesmerise the witness, whose solemn gaze is diverted from the earth and land towards the mystery of the stars, a canvass where conceptual essence finds a surface in black infinity. Mésange implore you to explore the threshold between dawn and dusk, self and other, where unfettered territories are
sensually intimated in fecund sounds that teeter between lightning and thunderclap.
As a graduate in electro-acoustic composition, Agathe Max has worked within a range of indistinct disciplines including, sound design for experimental film, theatre, contemporary dance and other visual art forms. Agathe uses improvisation to explore a dark(er) materiality rooted in ritual, myth and the supernatural. Agathe Max's latest recording A Gypsy in a Church (2016) is a daring 22 minute acoustic improvisation, weaving post-
classical motifs into a beguiling and hypnotic tapestry that utters speculations on sacred identity and heritage. Other creative actions have included the OFIELD project, processing and forging environmental soundscapes for an imagined utopia/dystopia.
Intrinsically embedded within the traditions of electro-acoustic composition, Agathe has collaborated within an eclectic scope of artists, including Kuro, Rhys Chatham, Carla Bozulich, Jonathan Kane, Yoko Higashi, Animal Hospital and Melt-Banana.
Luke Mawdsley is a musician and composer, solo artist, collaborator and guitarist in Cavalier Song. His work meditates on the human condition, stirring memory and desire within musical definitions of a terrific sublime. The results are a series of lush, yet darkly affective, symphonic abstractions weaving in and around melancholic myths and narratives. Luke deploys a post-minimalist sensibility, referencing a range of art forms and fascinations for repetition, unconventional rhythms and poetic design. Mawdsley has
performed across the Europe in a number of venues ranging from the esoteric to the implausible; bingo halls and dilapidated cinemas providing alternative sites for him to transmit electro-acoustic soundscapes to discerning listeners. Luke is currently the lead guitarist in Mugstar and a former member of Liverpool avant-garde group a.P.A.t.T. He has received commissions from The Blue Coat, FACT , Static Gallery and Edge Hill Arts
Centre, providing an ongoing portfolio of improvised and soundtrack works.
The duo have travelled and toured extensively across the U.K and Europe and have been invited to perform with the acclaimed minimalist composer Terry Riley. Their performances are often improvised and unrestricted by the usual constraints of musical reception, celebrating a queering of gender, the body and identity both visually and sonically. Heralded as vanguards of the a 'New Weird Britain' the pair are proud to launch their second L.P on God Unknown Records.
Reviews for Mésange
The Quietus
You may, then, also like Heliotrope (God Unknown), the debut album by Mésange: it, too, wordlessly fashions heady, droney atmospheres that could soundtrack a film where a man walks through a monochrome desert. It's more dynamic, that said, even legitimately rocking at a couple of points – both Mésange members are self-styled composers, but not averse to mucking in…fluid, rustic and crackling with life.
The Art Desk
Agathe Max and Luke Mawdsley's Mésange project brought chilled-out sounds with elements of neo-classical, minimalism and drone out into the sunshine.
Psych insight
The result is a powerful, dark and intense set of tracks that engender a broad spectrum of deep feelings for those who listen to it closely. This is not done through an eclectic approach to the music, rather through subtle changes of mood and musical cadence. This is an album that cannot be reduced to background music but needs attention to fully appreciate its crepuscular allure as it draws you into a netherworld that seems poised on
the edge of dream and nightmare.
Terrascope
Haunted by a portentousness and solemnity this is a spook fest for those of us who appreciate our drone […]the darkly melancholic has rarely sounded so uplifting, not to mention inspired and well-crafted. It's all very gratifying to these ears and is hardly going to disappoint anyone with a soft spot for either of Max and Mawdsley's day bands. Arguably it adds a bit to the palettes of both. A darkened room and with good acoustics and this will be especially powerful in a live environment.