CHLOÉ & VASSILENA SERAFIMOVA: SEQUENZA

Electronic music producer Chloé and instrumentalist Vassilena are releasing Balani, an astonishingly original single, which heralds their first co-written album, on the cards for 2020. Out on 28th February 2020.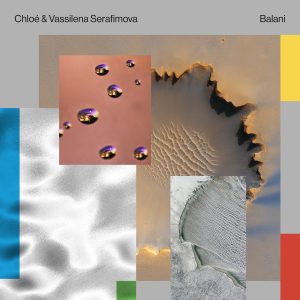 Balani reveals the perfect synthesis of the two artists' specific musical artistry: the intoxicating sounds of Vassilena's marimba arranged and shaped by Chloé's electronic production. The electronic beats and sequences which start out understated, wind around several percussion loops with added effects, all gradually escalating to culminate in a wild euphoria. Balani is up there with the craziest techno rushes before taking on a slow baleful rhythm to finish. It comes to a close as if exhausted but finally satiated by such an abundance of energy.
Watch Chloé and Vassilena playing at Paris Orly Airport:
Flashback: to the end of 2016, at a recording for Culture Box, France Television's replay platform, the collective Sourdoreille invited Chloé and Vassilena to collaborate as a duo on a new live performance. Although the idea was originally for something ephemeral, the collaboration has been going ever since, both on stage and in the studio.
The chemistry between the two artists was palpable from the beginning, fueled by the personal affinity that developed with the "scholarly" Bulgarian musician, who is also artistic director of Bulgaria's International Marimba and Percussion Festival and the Paris Percussion Group ensemble (with Jean- Baptiste Leclère): the rhythmic and ethereal character of the marimba marries perfectly with Chloé's synthetic beats and textures.
In parallel with their own trajectories, the two artists developed their original machine/percussion repertoire as a duo with an invitation to Studio Venezia, part of the 2017 French Pavilion's program at the 2017 Venice Biennale, designed and programmed by contemporary artist Xavier Veilhan. Chloé and Vassilena spent six days improvising and ended up creating original tracks and developing their "sound" in an hour-long live performance.
These foundations plus the enthusiasm for the project on stage prompted the duo to produce two tracks in 2018 for a vinyl released on Record Store Day as part of a Unik Session (produced by l'Adami and Radio France), recorded at the Maison de la Radio, on the principle that the recording would not be edited. This release already included a first live version of a very rhythmic track, Balani.
After more than two years of touring Europe, including appearances at major festivals (Musiq3, Days Off, Verbier Festival, Menton Music Festival), Chloé and Vassilena have been able to reinvent their own repertoire and perfect their style. At the end of November 2019, they were back in front of the cameras with the Sourdoreille collective for a live session at Orly airport, subject of a new Culture Box broadcast. At the same time Balani was released as a single on Lumière Noire Records, a final version which has evolved and matured with each performance.
The first disc (Adami/Radio France) was out on Disquaire Day 2018: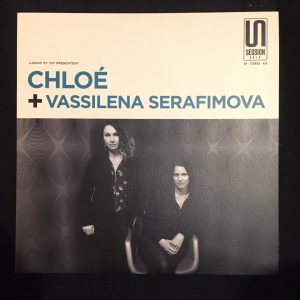 Chloé and Vassi were invited by Xavier Veilhan at Biennale de Venise in 2017:
BOOKING BY PASCAL@JULIETIPPEX.COM