SUBSTRAT
A substractive performance by Flore & Arandel
Let's imagine the music has already started. The music, the sound, the noise. 
Let's imagine an audience, doomed to be late to the party. An audience arrived after the start, that they can only imagine, invited to witness the disappearance of the music, its erasure, its eclipse. 
What does the audience discover, when it arrives in the venue, without having been able to witness the gesture that produced the sound, the first, original gesture through which the music comes? Which type of concerts does the audience attend when the ritual is shaken up, when the ceremony is reversed? And above all, how can the sound be listened to, when the audience missed its origination, but knows that it is there to witness the process of its inevitable disappearance?
It is an inverted ceremony because deep down, what role do musicians play when instead of building, piling up layers, harmonizing notes, they do exactly the opposite? When they decompose instead of composing. When, instead of making music, they undo it. When they hollow out, when they strip down, when they erase the sound. When their work as a musician is more that of a sculptor who carves into the material to reveal the form. When they reach the end of this counterpoint process to unveil the shape of silence. 
When the audience enters the venue, a guitar is already playing on its own standing in front of an amp, self-feeding a saturated drone with its own feedback.
At some point, the lights suddenly go off. And in a blinding light, the PA is opened. 
In the speakers and in pitch dark, the feedback of the amplified guitar is processed through machines, the signal sent to modular synths, saturated by effects pedals, treated through various tape delays and long reverberations. 
It is then and only then that the musicians enter the stage. For 50 minutes, they will undo the music, erase the pile of sounds. By modelling this material, gradually scooping out this complex sonic body, they will progressively make sequences of melody appear, they will reveal rhythmic patterns and other harmonics previously buried under the thickness of the drone.
As the sound fades out and as white smoke appears and pours on everything, the light returns conversely, very gradually and uniformly in this cloudy mass. Eventually, even the feedback dies out in this luminous white magma.
Silence has been made. 
It is deafening.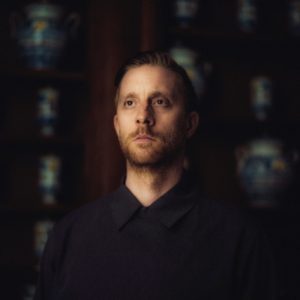 Arandel
Arandel gravitates in the electronic universe and many of its satellites, creating projects with varied aesthetics, with the search for new identities and unexpected and successful sound encounters in line of sight, always. He plays music and with music, and he plays with his voice, self-taught in all trades and master of none, yet it is exciting to hear him grasp a theme, and shape it according to his endless imagination. 
Author of 6 EPs and 5 albums released on the French label InFiné and an EP on the Sheffield label Computer Club (Central Processing Unit's sub-label), he also created many sound pieces for museums and places as varied as the Quai Branly, la Gaîté lyrique, the Musée de la Musique in Paris, Grandes Serres du Parc de la Tête d'Or in Lyon, the cultural centre in Ambronay and its baroque music festival… Passionate about soundtracking, he created two cinemixes, one for Gaumont's 120th anniversary, on excerpts from the movie 'Les Vampires' by Louis Feuillade and the other at the invitation of the Cinémathèque Française, accompanied by pianist Edouard Ferlet, for th opening of a Murnau retrospective. Arandel is also a fine designer for tracks, an inspired assembler who makes pieces from different eras, texts, sounds, noises, ghosts communicate, with a certain magic… As in his series of themed mixtapes: around French fashion in the 60's, sonic architecture, Halloween or Christmas.
Arandel played with classical musicians, foley artists, choirs, dancers, visual artists and more: guests from all backgrounds.
His latest sound odyssey? Reinterpretations of Bach, with the aim of "demonstrating that, if Bach had lived in the twentieth century, he, too, would have been demonstrator for Moog". 
On the live side, Arandel's imaginary worlds led him to stop over in great places, answering diverse invitations, from the Design Museum in Miami to the Universal Exhibition in Shanghai. Arandel played numerous mythical festivals: Nuits de Fourvière in Lyon, Days Off in Paris, Printemps de Bourges, Nuits Sonores in Lyon or Sonar in Barcelona. 

Flore
Flore is a leading figure in the French bass scene, known for her prowess as a DJ, producer, curator, and label boss of POLAAR. Her energy-filled DJ sets and ability to create a sense of community on the dance floor are what sets her apart. With a passion for a variety of musical styles, Flore seamlessly blends amen-breaks, Afro-Caribbean influences, acid house, and techno. As a resident of Sucre in Lyon, she showcases her impressive musical selections, consistently delivering well-curated and distinctive sets, characterized by syncopated bass drums, explosive basslines, and intense percussions.
In 2020, Flore released her second album, RITUALS, on her own label POLAAR. This album distinguishes itself by Flore's unique approach to bass music and her eagerness to break down genre barriers. RITUALS caught the attention of numerous DJs and media outlets, both nationally and internationally, including BBC, Mixmag, Trax, and Tsugi. Following the album's success, several top-tier artists, including Azu Tiwaline, Hodge, Deena Abdelwahed, Walton, 3Phazz, and the British artist LCY, produced a series of remixes.
Flore's passion for technology as a means to escape the confines of conventional music genres has led her to explore new esthetics and stage setups. In recent years, she has worked closely with the visual artist WSK to create immersive live shows that combine music and 360-degree video mapping. She is also increasingly interested in multiple-speaker diffusion. Her expertise in this area earned her the distinction of becoming the first certified woman Ableton instructor in France. As a result, she is frequently invited to collaborate on various projects, such as the live performance "InBach" with the musician Arandel (Infiné) and a joint creation with the Musée de la Musique's collection of rare and valuable instruments.
All of these elements come together to make Flore a truly captivating artist and a force to be reckoned with in the European music scene. If you haven't experienced her live sets or listened to RITUALS yet, you're missing out on something truly special.
Julien Appert
After visual arts studies, Julien quickly moves toward the performance. It seems to be the logical continuation of this painting work. The light, then the projected image on stage become his work tools and the performing art becomes his main activity. 
During his time working with bands, stage directors or choreographers, Julien always sought to develop a live approach to video and image. This experience allowed him to work with numerous artists from various backgrounds. From Arthur H for musical readings, to the Théâtre du Châtelet for a video scenography of a show for a young audience, he is always keen to find the most suitable video device for his narration. 
There are also projects and artists that make a difference. For several years, Julien has been working with Toh Imago (InFiné), he is one of the artists who gave him a total carte blanche, so Julien has the role of video creator, stage designer and artistic partner. The pinnacle of this collaboration took on its full meaning for a 360-degree Live show at the ARTE concert festival at Gaité Lyrique in 2016. 
For several years, Julien has been creating solo AV performances, in which he works on the relationship between live music and live images. MODLL, ROUGE and now EPIDERME are audiovisual performances where Julien plays music but also image thanks to a live objects manipulation device. This allows him to develop real shows, halfway between concert and cinema. 
In 2020, he created the light and video of the dance show WONDERLAND by the Sylvain HUC Company. The light takes on a narrative meaning and gives clues to this adaptation of "Alice's adventures in Wonderland" by Lewis Caroll. In close collaboration with the composer and choreographer, they have built a light that can be considered a third character.
SUBSTRAT is in the creation phase: we are looking for two places to welcome us for a stage residency and performances afterwards.
BOOKING: Pascal Tippex
Management : Marine De Bruyn