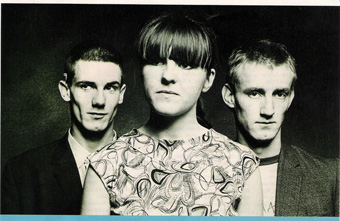 Twenty-nine years after its release, Young Marble Giants' legendary 'Colossal Youth' (on Rough Trade Records, recorded in 1980 in five days and mixed in 20 minutes) remains a landmark in post-punk music, an enigma of its own, acclaimed by musicians and audience over the years.
Formed in 1978 in Cardiff, the trio's music was constructed around the powerful and minimal instrumentation of brothers Philip and Stuart Moxham on bass and guitar, supporting the naive untrained vocals of Alison Statton.
The band split in 1980, reformed in 2006 for a world-wide serie of amazing shows (with Julie Tippex!) and called it a day in 2015.
In the 80s, after Young Marble Giants, Stuart played with The Gist, Alison with Week End and Spike. The big news in 2018 is that, following the reissues by the label Tiny Global Productions of The Gist and of Alison and Spike's new album, the three of them decided to go back on the road.
So join us for 'An Evening of talk and music with Stuart Moxham and Alison Statton, formerly of Young Marble Giants, and Spike, formerly of Weekend'.
The first show was in Barcelona in 2017 at the Primera Persona festival ; Aliso, Stuart and Spike played an acoustic showcase of some of their old songs. They also took the time to tell the story of that mysterious and cultish band whose carrer went like a meteor. You can now watch a video of that show.
The Alison, Spike and Stuart show is available for more shows, get in touch with pascal@julietippex.com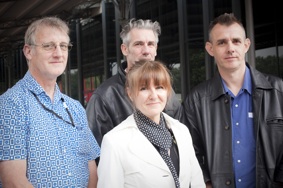 Photo by Renaud Monfourny
Here is a list of the shows that YMG played between 2007 and 2015:
27 May 2007: Hay Festival, Hay-on-Wye, UK
28 October 2007 : Festival BBMIX, Boulogne-Billancourt, France
29 May 2008 : Auditorio Caixaova, Festival Sinsal, Vigo, Spain
30 May 2008 : Casa da Musica, Porto, Portugal
31 May 2008 : Festival Primavera, Barcelona, Spain
1 November 2008: Factory Festival, Nivelles, Belgium
14 November 2008: Sun Festival, Cardiff, UK
16 January 2009: Hebbel Theater/HAU, Berlin, Germany
9 May 2009: All Tomorrow Parties Festival. Minehead, Sommerset, UK – The band performed the complete Colossal Youth album
2 May 2010: Camden Crawl Festival, London
1 June 2010: Villette Sonique Festival,  Paris
16 Oct 2010: Le Lieu Unique, Nantes, FR
10 Dec 2010: Midi Festival, Opéra de Toulon,  Toulon, FR
9 March 2012 All Tomorrow Parties Festival. curated by Jeff Mangum (Neutral Milk Hotel), Minehead, Sommerset, UK. That was the day they met again with label mates The Raincoats for the first time in decades:

Left to right: Alison, Stuart (YMG), Anna, Anne (Raincoats), Phil (YMG) and Gina (Raincoats).
13 October 2012: Teatro Municipal de Vila do Conde, Porto, Portugal
10 February 2013: Dingwalls, London
16 March 2013: Festival Avaulx Jazz, Vaux-en-Velin, France
20 September 2013: Union Chapel, London
14 December 2013: Week-End Festival, Koln, Germany
20 September 2014: Strange Wales Music and Film, Laugharne, UK
19 October 2014: Dancehouse, Manchester, UK
20 October 2014: Stereo, Glasgow, UK
7 March 2015: Kraak festival / Netwerk center for contemporary art, Aalst, Belgium
3 July 2015: Festival Mimi, Iles du Frioul, Marseille, France
6 August 2015: Grassroots Fundraiser, The Globe, Cardiff
27 August 2015: Meltdown Festival curated by David Byrne, Royal Festival Hall, London – the final show.
—–
Press: [Jeff Mangum's] selection for the rest of Friday remained in a classic, cult vein, with Young Marble Giants performing their genius 1980 album 'Colossal Youth' – an intimidatingly pared down exercise in introspective new wave that was recorded in four days in rural Wales and remains frozen in time. The naively sweet vocals of Alison Stratton chirrup over Philip Moxham's plundering basslines on 'Searching For Mr Right' and 'Salad Days', while 'N.I.T.A.' and 'The Man Amplifier' introduce their trademark Wurlitzer wobbles. Their sound is like nothing preceding or since – if anybody dared to imitate it would inevitably end in messiness as this level of simplicity requires seamless execution. YMG achieve this with trademark poise, closing with 'Credit In A Straight World', a song later covered in a slightly more belligerent manner by Courtney Love's Hole. clashmusic.com/
*************************************************************