LOTTO are an instrumental trio based between Warsaw and Berlin — Łukasz Rychlicki on guitar, Mike Majkowski on bass, and Paweł Szpura on drums — blending the outer borders of jazz, country, noise, and minimal electronica, through repetitive structures and improvisation, creating a music that is both hypnotising and moving. Mike Majkowski has been touring with Hailu Mergia and drummer Tony Buck (The Necks) since 2013, he also tours as a soloist as well as in other various projects. Paweł Szpura is one of Poland's most in-demand drummers, playing and touring in a variety of groups (Hera, Wovoka). Lotto have released three albums to date: Ask The Dust (2014), Elite Feline (2016) and VV (2017).
NEW EP PIX to be released on 26th of April 2019 on Instant Classic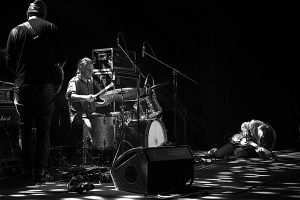 Lotto about PIX
"This time we didn't record in a regular studio as we usually do," says guitarist Łukasz Rychlicki. "Instead, we used fragments and samples of earlier recordings, and produced new music by deconstructing and manipulating these sounds. We also set aside our main instruments and made use of electronic ones," he adds.
All tracks recorded, written & produced by Lotto: Łukasz Rychlicki Mike Majkowski Paweł Szpura Berlin, June 2018.
LOTTO on Bandcamp
For BOOKING Enquiries please contact TEA AT JULIETIPPEX DOT COM
Selected Press:
VV reviews on Tiny Mix Tapes ; The Attic ; The Wee Review ; Cyclic Defrost

The propulsive trio snakes their noir-soaked negative-space jazziness all up and down your spine, tickling the reward centers of your brain as it passes. Oh, those endorphins are really kicking in now! – Tiny Mix Tapes
The group are like wild, porous-minded geniuses, clambering over improvisation that flows like feverish tangents of thought, before finding themselves blinking into a blazing epiphany, repeating a particular construct as a means of celebrating it. – ATTN:Magazine
Repetitive, faux looped rhythmic gestures with all manner of weirdness colliding and exploding over the top. Yet of course it's not that simple. It's controlled, but it defies easy categorisation … Perhaps it's the future of jazz. – Cyclic Defrost
Listening to this third album of the trio it really feels like riding a motorcycle… setting an overall psychedelic feel that evolves and grows… Listening consciously, you don't really know what to expect; at any point and at any time something can change its route. – The Attic
An excursion into trance creating a ritualistic, meditative and otherworldly atmosphere… – The Free Jazz Collective
Ask the Dust doesn't adhere to simple categorizations, it jumps between the atmospheric, slow-paced experimental jazz rock…  – Weed Temple