New collaboration and album: David Grubbs / Jan St. Werner
David Grubbs & Jan St. Werner, Translation from Unspecified
Blue Chopsticks BC37 LP – More info on the Drag City website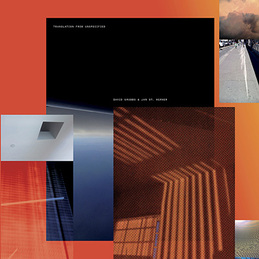 David Grubbs and Jan St. Werner met in the mid-1990s when Grubbs was playing with Gastr del Sol and the Red Krayola and St. Werner in Mouse on Mars and Microstoria. After years of exchanging ideas, Translation from Unspecified marks their first time locking horns as a duo, and it's clear this deck-clearing collaboration was long overdue. In January 2020 Grubbs arrived at Mouse on Mars' Berlin studio Paraverse with a guitar and "Translation from Unspecified," an open-ended, seemingly self-generating poem suggesting AI, one of the themes in St. Werner's recent work. This became the side-length title track, a winding corridor of electronic fanfares and spontaneous musical miniatures urging Grubbs's slow and steady recitation to grow wings and graduate into song. Who knows where this idiosyncratic mise-en-scène—day-glo, extrovert electronics and task-oriented human—came from? Reference points, distant ones, might include Robert Ashley and Paul De Marinis's "In Sara, Mencken, Christ and Beethoven…" and the sound poetry of Anton Bruhin. Flip the record and you have "Soixante Ooze," a live-in-the-studio duo for guitar and computer more recognizably St. Wernerian and Grubbs-like that reconfigures elements of the title track before finally morphing into needle-pinning monoliths of sound.
David Grubbs has released fourteen solo albums and appeared on more than 200 releases. He was a member of the groups Gastr del Sol, Bastro, and Squirrel Bait and has performed with Tony Conrad, Pauline Oliveros, Luc Ferrari, Will Oldham, Loren Connors, the Red Krayola, Royal Trux, and many others. His newest book is Good night the pleasure was ours (Duke University Press, 2022).
Jan St. Werner is an artist and electronic music composer best known as one half of the group Mouse on Mars. He has collaborated with Oval's Markus Popp as Microstoria and written music for installations and films by visual artist Rosa Barba. In 2013, St. Werner released Blaze Colour Burn, the first of a series of experimental recordings called the Fiepblatter Catalogue. Recently his work has prioritized installation and interventions with spatialized sound, including a number of collaborations under the name Dynamische Akustische Forschung (DAF).
David Grubbs is an associated artist of Julie Tippex
Contact for concerts: marie@julietippex.com